By: Sha - at July 3, 2013
Top Tourist Attractions in Perth, Australia


Click for a Larger Panoramic View!
Perth is a world class city known for some of the most beautiful beaches in the world, and for high quality of living standards. It is the capital of Western Australia, and 4th largest city in the country. Perth is one of the most isolated cities, in a very, very good way, on the planet. The nearest city to Perth is Adelaide which is over 2,000 km away. Theme parks with a variety of rides and a carnival atmosphere, beautiful beaches, and great outdoors in Perth are a major attraction for locals and tourists. In fact, there are so many wonderful places in this beautiful city of Western Australia, that it is easy to overlook some of them.

When it comes to places of interests in Perth Australia, there is a range of options for you that are easy to get to and within your budget.
Pictures of the City:
Perth, Western Australia, viewed at night reflected in the Swan River: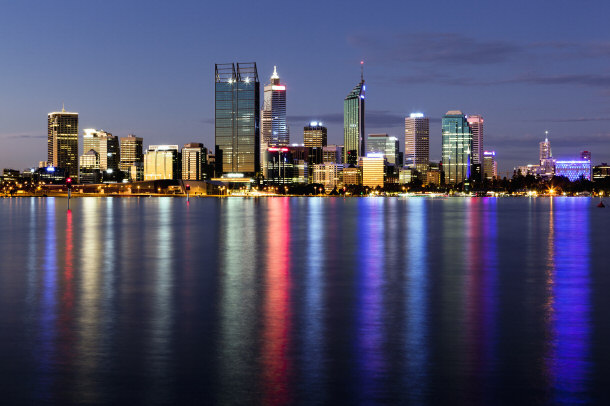 A View of Perth (From King's Park):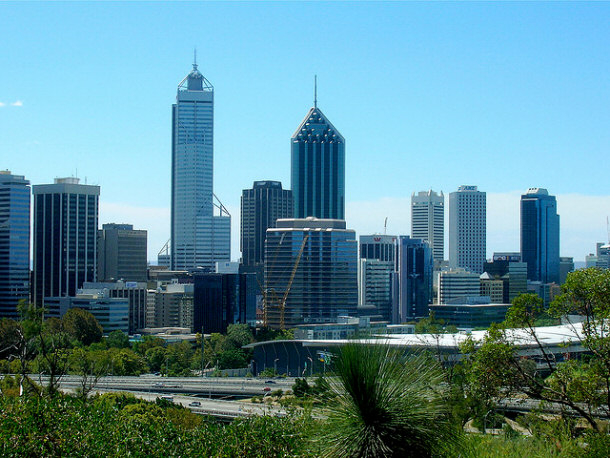 Driving through Perth Australia: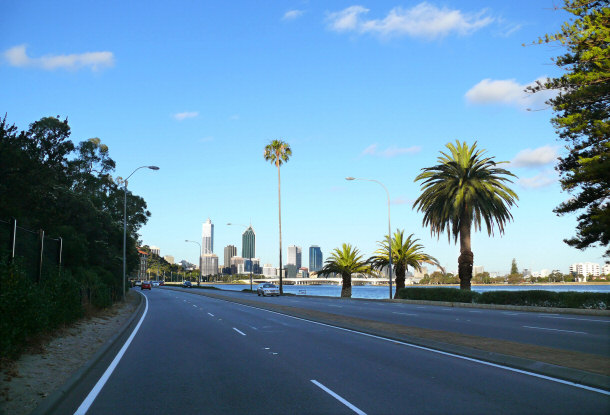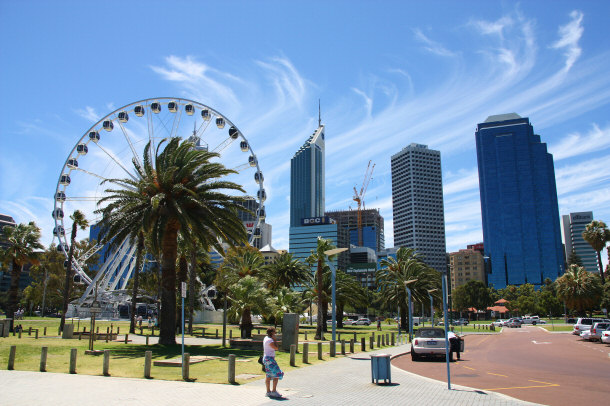 Top Places to Visit in Perth, Australia
Here are some of Perth's major and most popular tourist attractions:
Adventure World
It is one of the best theme parks in Australia and a very popular place to visit. It is a 20 minute drive away from the city center of Perth and located in Bibra Lake. Adventure World is the premier amusement park of Perth, and has a wide variety of options, including water slides and rides, fun roller coasters, mazes, Kids Cove and all sorts of attractions to suit the whole family. This park is a favorite for both locals and tourists. Whether you go alone or with the family, bring along a picnic or enjoy the foods offered by lots of vendors within the theme park. You will surely enjoy every moment here.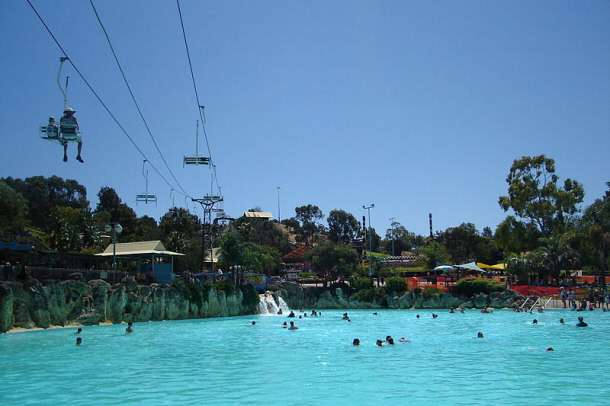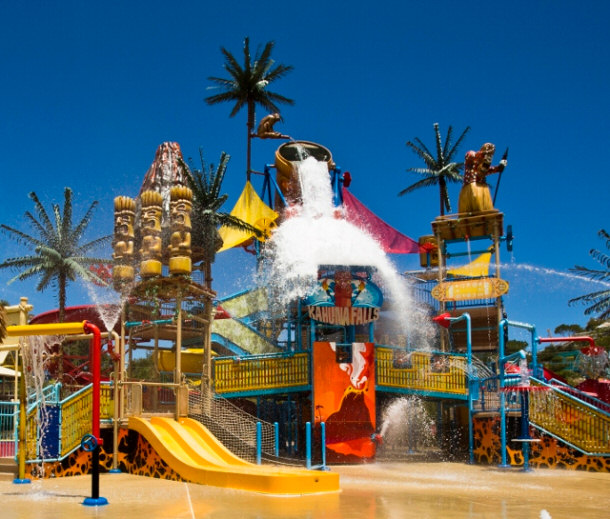 By Clarers (Own work) [CC-BY-SA-3.0], via Wikimedia Commons
JUST FOR FUN Aqua Park
As the name indicates, it is a great place for enjoying outdoor fun. It is a massive water park located on the picturesque western shore of Mandurah to the south of Perth. It is an ideal place for toddlers, kids, youths, and adults to have fun. Splash, jump, slide and climb in this massive water playground. It is a great water playground and one of the major attractions in Perth.
Museum of Western Australia
If you love exploring the past then a museum is the best place. The Museum of Western Australia is very rich with thousands of collections. You can see dinosaur fossils, aboriginal artifacts, and stone-age tools. There are plenty of exhibitions, school holiday events, activity trails, and other educational opportunities year round.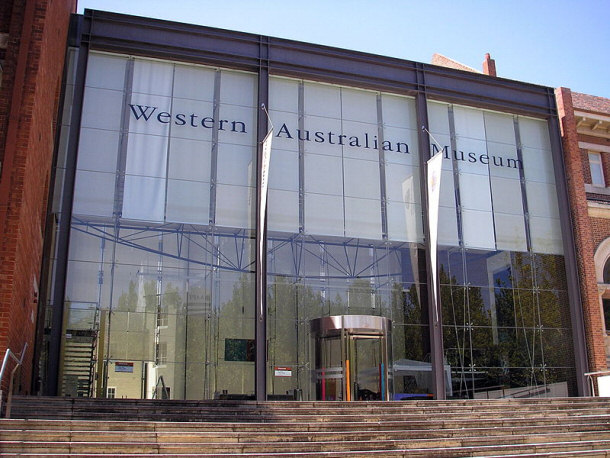 By Nachoman-au (A digital photograph taken by myself.) [GFDL, CC-BY-SA-3.0 or CC-BY-SA-2.5-2.0-1.0], via Wikimedia Commons
Kings Park & Botanic Garden
It is a famous spot in Perth that entertains people of all ages. Kings Park & Botanic Garden is just off the CBD (Central Business District) of Perth and is the most visited destination in Perth. The park has playgrounds for kids and adults, cafes, and picnic areas scattered throughout the park. During summer you can see a concert or performance in the park. You can hire a bike, join a free guided walk or simply take a tram tour to explore this beautiful natural park which expands over 400 hectares of parkland and natural bush. You can have a spectacular view of the Swan River while eating at the Kings Park Tearooms or at Fraser's Restaurant. It also provides a spectacular view of Perth skyline, especially in the night. It is a place for inspiration, picnics, pleasant walks, relaxation, and recreation for both local people and visitors or tourists.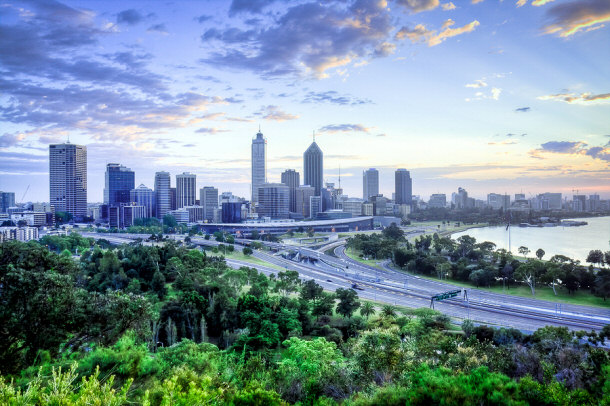 Perth Zoo
Whether you are visiting with families or alone do not forget to explore one of the best zoos in Australia. Perth Zoo is a fun place to visit at any time as it is open every day. Make sure to bring your camera because there are plenty of opportunities to take great shots of the creatures you love. You can see hundreds of native and exotic animals. This zoo is particularly famous for its breeding programs for endangered species. See the Asian Rainforest and Nocturnal House, the Australian Walkabout, and African Savannah in this award winning zoo. You can bring along a picnic or BBQ at the zoo if visiting with family or friends and enjoy lunch. You can also enjoy a light lunch, coffee or snack at a lunch bar and café in the zoo.
Australian Penguin in Perth Zoo: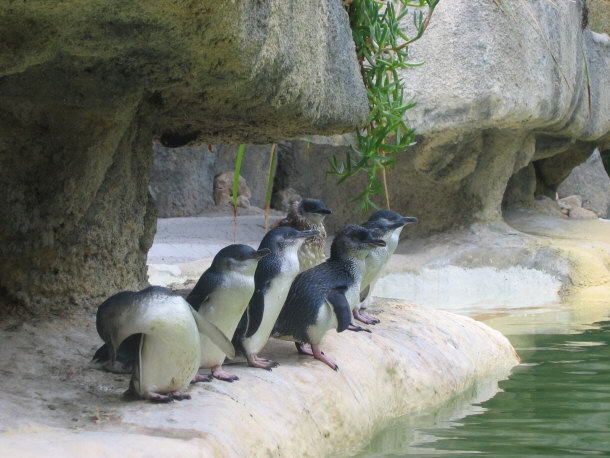 Koala Bear in the Perth Zoo: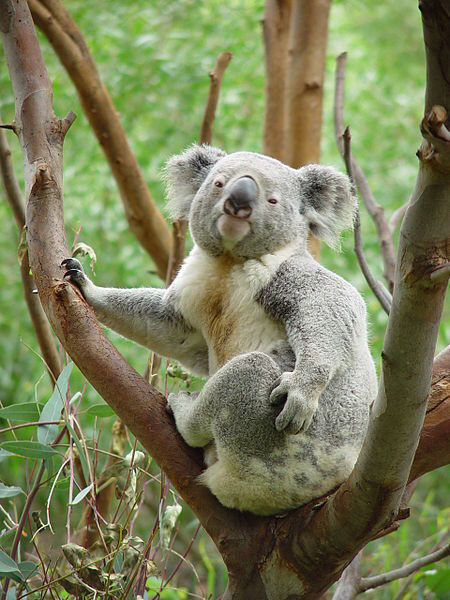 Cottesloe Beach
It is the most famous beach and the most popular destination for Perth residents and visitors on those hot and lazy days. You can enjoy spectacular views over the Ocean, great sunset moments, and snorkeling. There are dozens of restaurants and cafés on the beach along the Marine Parade. You can also find accommodation here but prices can be a bit higher than that of the hotels in Perth.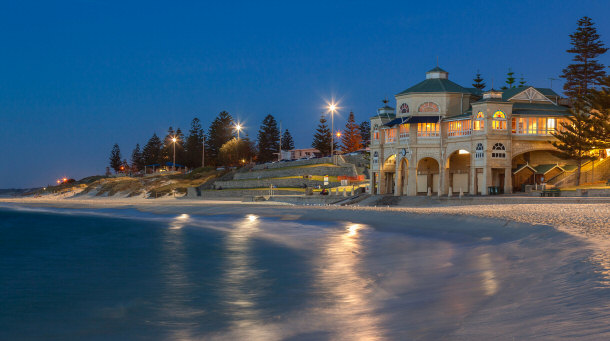 Trigg Beach
If you love surfing then Trigg beach is a great place for you to spend a few days. Towards the Trigg Island end it is one of Perth's best surf breaks. It is called an island because part of it can be separated from mainland Australia in winter. It is a great place and one of Perth's most popular beaches to enjoy a nice climate, chill, and relax. You can see plenty of great waves around this beach, and catch some rays too.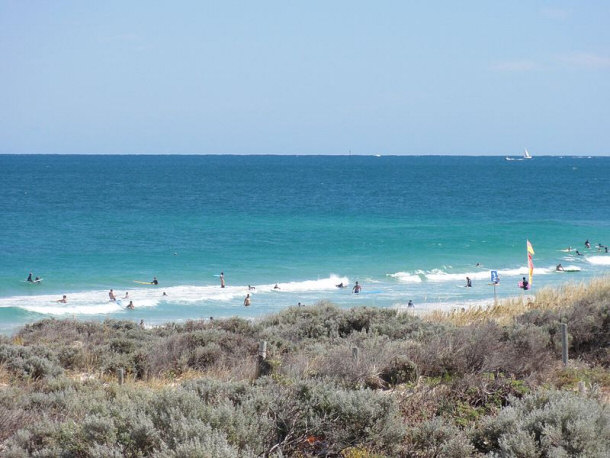 By Michael_Spencer from Perth, WA, Australia (Trigg BeachUploaded by russavia) [CC-BY-2.0], via Wikimedia Commons
Other Popular Tourist Attractions in Perth Include:
Art Gallery of Western Australia
It has over 15,000 works of art that attract tens of thousands of visitors every year.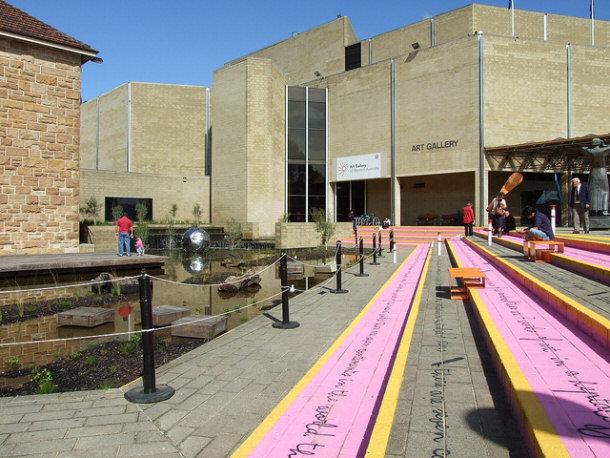 Rottnest Island
This small, beautiful and unusual island is about 18 km off the coast of Perth. It has become a wildly popular day trip for both Perth residents and visitors.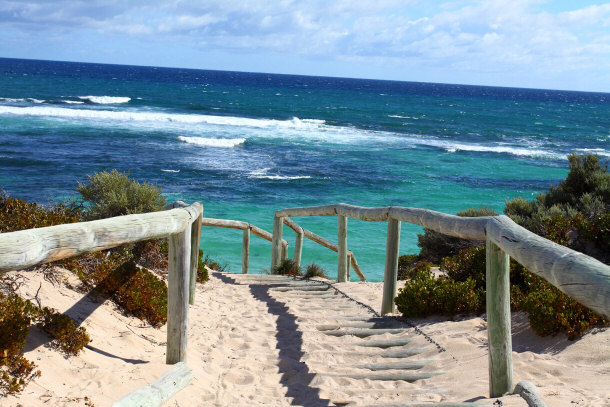 Fremantle
This small town, close to Perth, is the site of the first European settlement in Western Australia.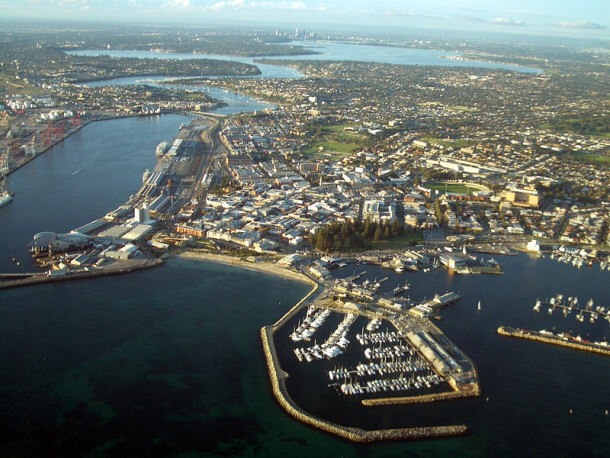 By Chewy m at en.wikipedia [GFDL, CC-BY-SA-3.0 or CC-BY-2.5], from Wikimedia Commons
Subiaco Oval
This is the most important sports stadium in Perth and home to Australian Rules football.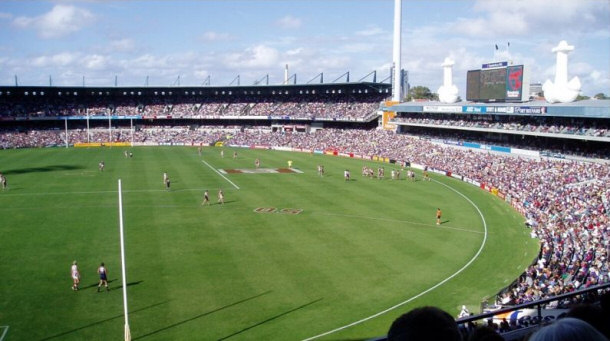 And Final Words
No matter if you are locals or tourists; you are bound to enjoy yourselves at these theme parks, beaches and outdoor destinations throughout Perth, Australia. If you want to have a great time alone, or with family, and/or friends then Perth is one of the best destinations in the world and very much worth visiting.
Vacation Destinations
Top Lists:
Top 15 Interesting Places to Visit in the Bahamas
Top 15 Fun Things to Do in Miami, Florida
Top 15 Fun Things to Do in Chicago
Top 15 Best Unknown Things to do in Las Vegas
Top 15 Fun Things to Do in Hollywood
Top 10 Best Places to Visit in Turkey
The Top 15 Best Things to Do and See in Sydney
Top 10 Things to Do in Edinburgh
Top 10 Things to do on Oʻahu
Top 15 Things to Do in Albuquerque
Top 15 Interesting Places to Visit in Spain
Top 15 Places to Visit in New York City
Top 15 Things to Do in Portland Oregon
Top 15 Things to do in Greece
Top 15 Places to Visit in Houston Texas
Top 15 Interesting & Safe Places to Visit in Mexico
Top 15 Interesting Places to Visit in the Netherlands
Top 15 Interesting Places to Visit in Thailand
Top 15 Interesting Places to Visit in Switzerland
Top 15 Interesting Places to Visit in Portugal
Top 15 Places to Visit in San Francisco
Top 15 Interesting Places to Visit in Shanghai
Top 15 Interesting Places to Visit in Puerto Rico
Top 15 Interesting Places to Visit in Norway
Top 15 Interesting Places to Visit in Las Vegas
Top 15 Interesting Places to Visit in Jamaica
Top 15 Interesting Places to Visit in Croatia
Top 15 Interesting Places to Visit in Belgium
Top 15 Interesting Places to Visit in Bangkok
Top 15 Things to Do in Rio de Janeiro
Top 15 Things to Do in Monaco
Top 15 Interesting Places to Visit in Dubai
Top 15 Interesting Places to Visit in Amsterdam
Top 15 Things to Do in New Zealand
Top 15 Interesting Places to Visit in Paris
Top 15 Interesting Places to Visit in Italy
Top 15 Interesting Places to Visit in Singapore
Top 15 Most Interesting Places to Visit in Berlin
Top 15 Best London Attractions
15 Little Known Facts About New York City
Disney World Articles
Top 15 Disney World Rides for Adults
Top 15 Disney World Rides for Kids
Top 15 Disney World Resorts for Adults
Top 15 Disney World Resorts for Kids
15 Fascinating Facts About Disney World
Top 15 Fun Things to Do at Disney World's Animal Kingdom
Top 15 Fun Things to Do at Disney's Hollywood Studios
Top 15 Fun Things to Do at Disney World's Epcot
Top 15 Fun Things to Do at Disney World's Magic Kingdom

Shorter Top Lists:
Top 10 Tourist Attractions in San Diego
Top 10 Tourist Attractions In India
Top 10 Things to Do In Kansas City
5 Places You Should not Miss in Brazil
Top 5 Things to do in New York City

Informational:
Best Tourist Attractions In Vietnam
Taking in the Sights in Shanghai
Top Tourist Attractions in Perth, Australia
Nice places to visit while in Great Britain
Sampling the Foods at the Night Markets in Taipei
What to do for a Kenya Vacation
Best Attractions in Victoria, B.C.
Photos of the Luxor Hotel in Las Vegas