By: Sha - at October 11, 2013
Top 10 Best Places to Visit in Turkey
Going for tours around the country of Turkey can be an unforgettable experience for any intrepid traveler. There are so many great attractions that the list of fantastic destination in Turkey is almost endless. Whatever places of interest you plan to include during your tour of Turkey, be assured that it will be most certainly a memorable experience. When traveling abroad to any country, you should have a well-researched plan to make the most out of your trip. Research can include choosing the right tour operators, knowing the best seasons to travel, getting the best value packages, and having a good knowledge of the local cultures, food, and transportation options. By conducting sufficient research, you will make sure your vacation to Turkey will be the best vacation possible.
Turkey has fantastic contributions to culture, history, and civilization. Turkey, which is truly the gateway to Asia and Europe, is surrounded by the Mediterranean, the Aegean Sea, and Black Sea. It is a crossroads into one of the world's richest areas with the opportunity to view historical sites and landmarks. Turkey has everything to offer for both locales and visitors alike. Tours of Turkey provide you with a wide range of amazing sights. This includes ancient towns with magnificent ruins, beautiful beaches along the Anatolian peninsula, seaside highways, excellent weather, vibrant cosmopolitan cities, Turkish delights, and gorgeous modern architecture.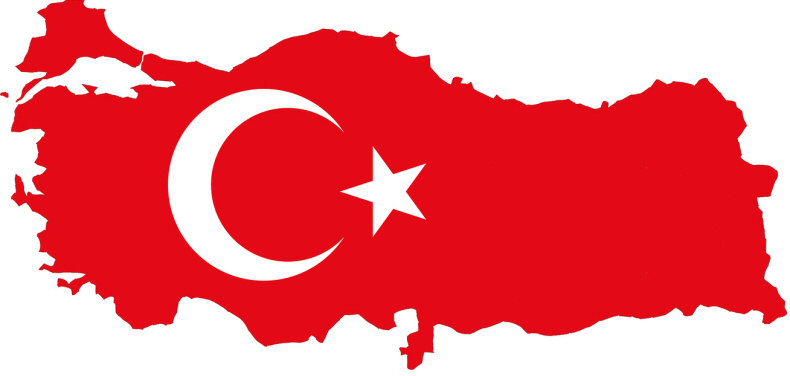 Here are the Top 10 places to enjoy while vacationing in Turkey:
---
10) Bodrum Castle
This magnificent castle, located in the city of Bodrum, is one of the best preserved monuments in the world. Bodrum Castle, built in 15th century medieval times, now operates as a museum with the focus on underwater archaeology that includes sailing crafts.
Historic Bodrum (Halicarnassus) Theater and Castle in Background: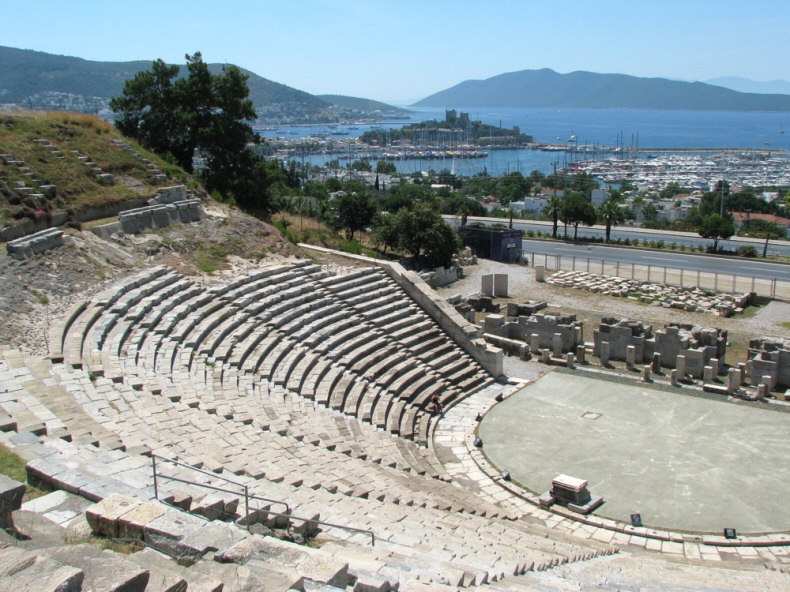 By bazylek100 via Wikimedia Commons
Originally constructed as the Castle of St. Peter, Bodrum Castle was built by the Knights Hospitaller in 1402.
Castle of St. Peter or Bodrum Castle:


By Ad Meskens via Wikimedia Commons
---
9) Antalya
Antalya is a large, vibrant city that is located along the Turkish Riviera on the Mediterranean coastline. Gorgeous beaches and lush green mountains holding ancient ruins have made the city one of the hottest tourist destinations in the region.
Antalya Beach: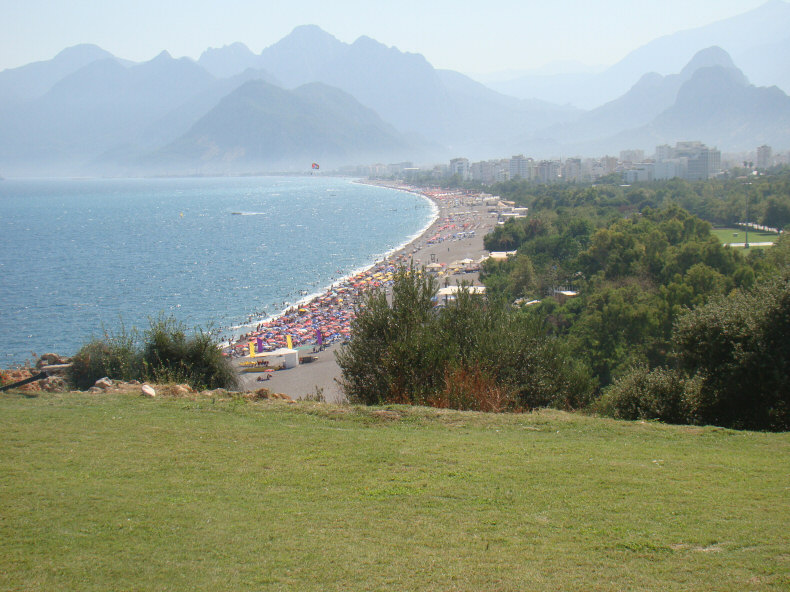 By دانقولا via Wikimedia Commons
Antalya offers something for everyone! Swimming, sailing and mountain climbing are just few fun adventures to enjoy. The city is also filled with numerous resorts, hotels, restaurants and cafés. Nearby are the upper and lower Duden Falls which ultimately empty into the Mediterranean Sea.
Lower Duden Falls - Antalya, Turkey: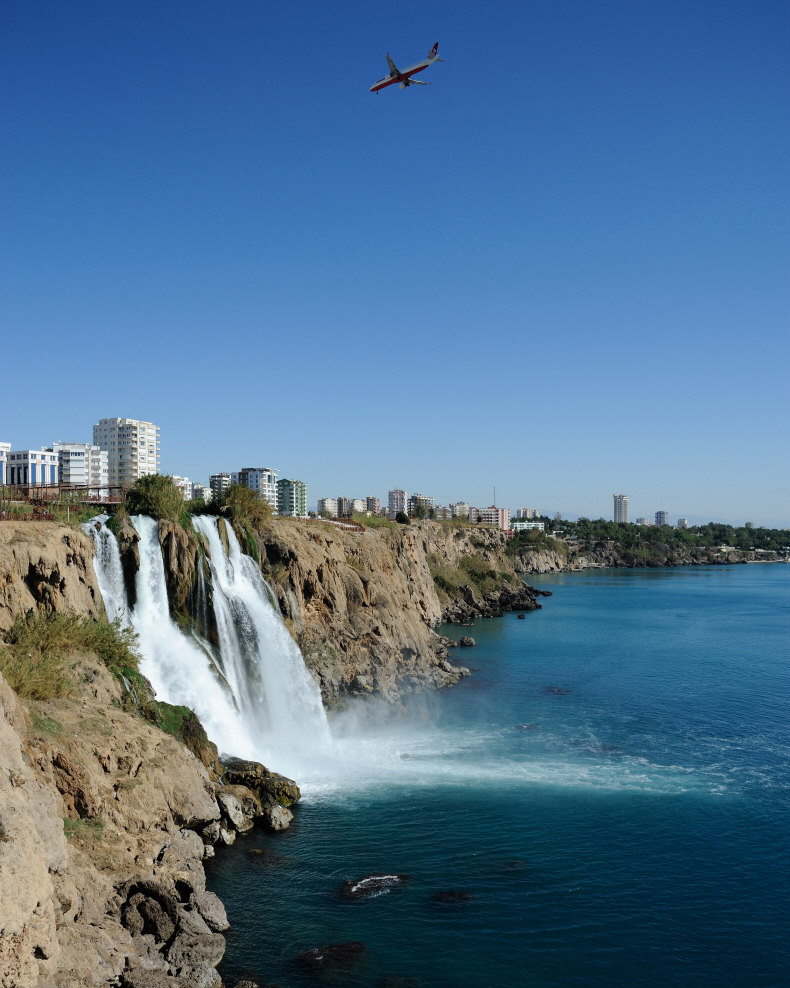 By Saffron Blaze via Wikimedia Commons
---
8) Marmaris
Marmaris is one of the most popular seaside resorts located along the Turkish Riviera. Its picturesque setting shows pine-clad mountains, breathtaking white beaches, historic architecture and many other beautiful sightseeing opportunities that have made it a tourist's paradise. It is a stunning cruise port full of adventure, water sports, great food and a buzzing nightlife.
Marmaris Harbor, Turkey: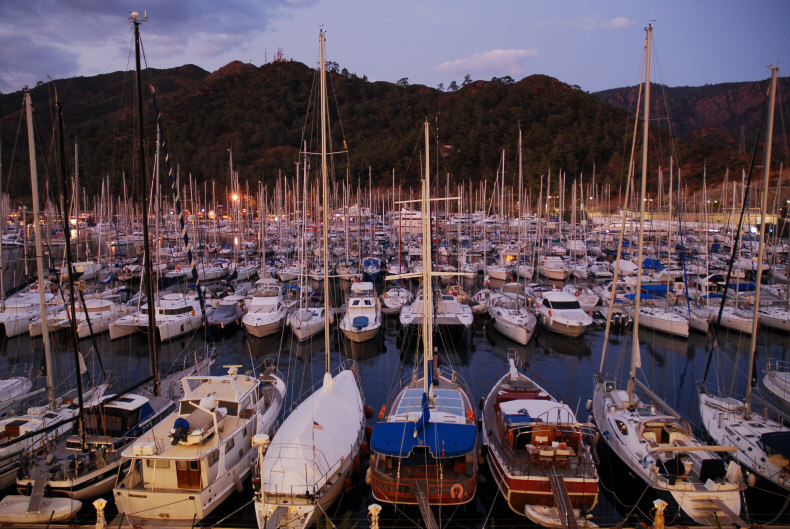 By Mstyslav Chernov via Wikimedia Commons
---
7) Konya
Located in the central Anatolia region, Konya is one of the oldest cities in the entire world. The town prospered as a capital city of the Seljuk Dynasty during the 12th and 13th centuries. It is widely known for its remarkable Seljuk architecture. Konya is a large modern area but you can still see many of the historical buildings. Historical landmarks include the Alaeddin Mosque and the ruins of the Seljuk Palace.
Alaeddin Mosque Konya, Turkey: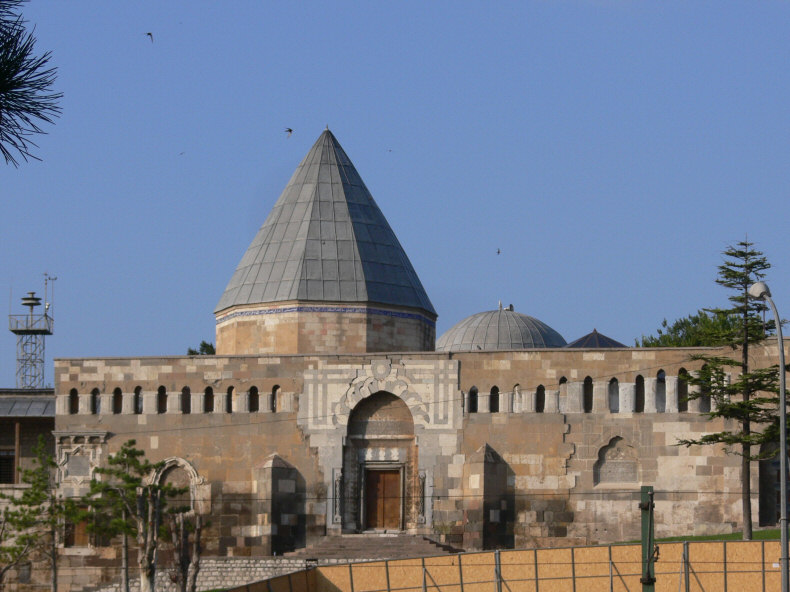 By Christian Mathis via Wikimedia Commons
Seljuk Palace Ruins Konya, Turkey: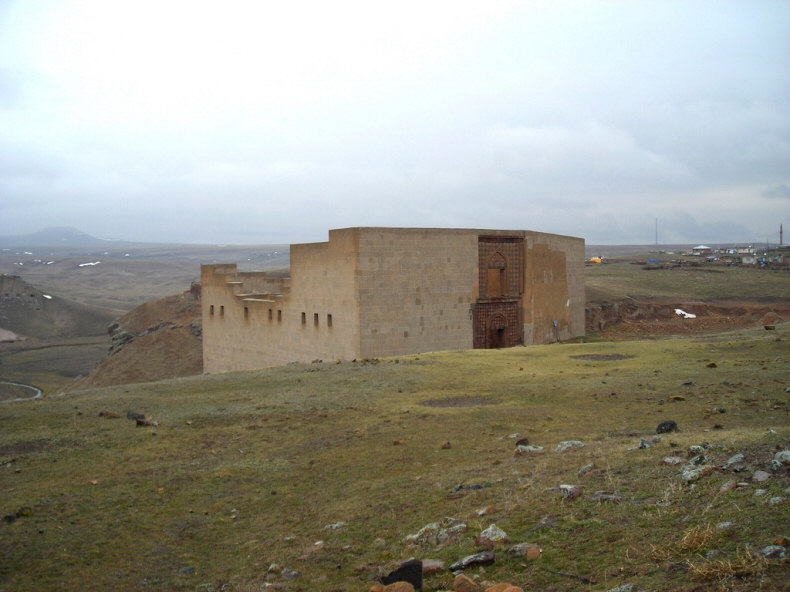 ---
6) Side
Side is another historic city which served as a major shipping port during ancient times and was famously occupied by Alexander the Great during the 4th century B.C. Today, Side is a modern tourist resort and beautiful destination. Side is a charming place made of classic ruins that sit among lovely beaches. Located on a small peninsula, Side offers great dining, nightlife and fantastic sightseeing.
Remaining Walls of the Ancient Theatre - Side, Turkey: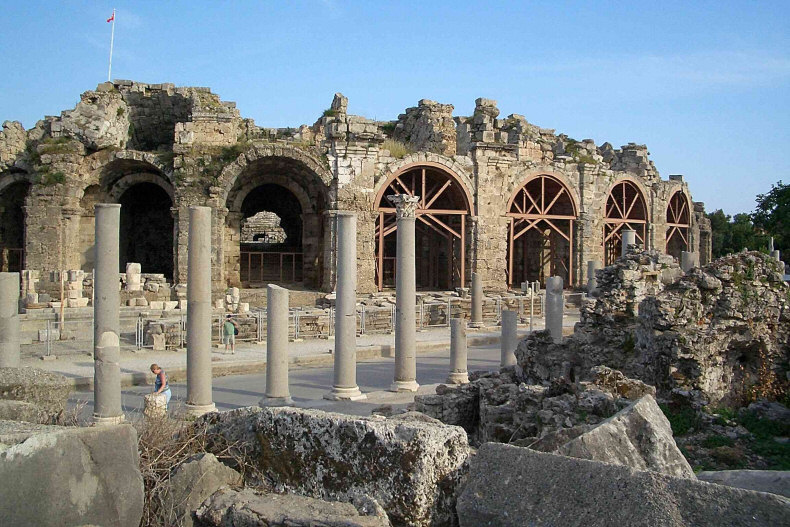 By KaHe via Wikimedia Commons
The prime attractions in Side are the remnants of the colossal amphitheater and the temples located in an excavated site of the Hellenistic and Roman ruins.
Temple of Apollo Ruins Located at Side, Turkey: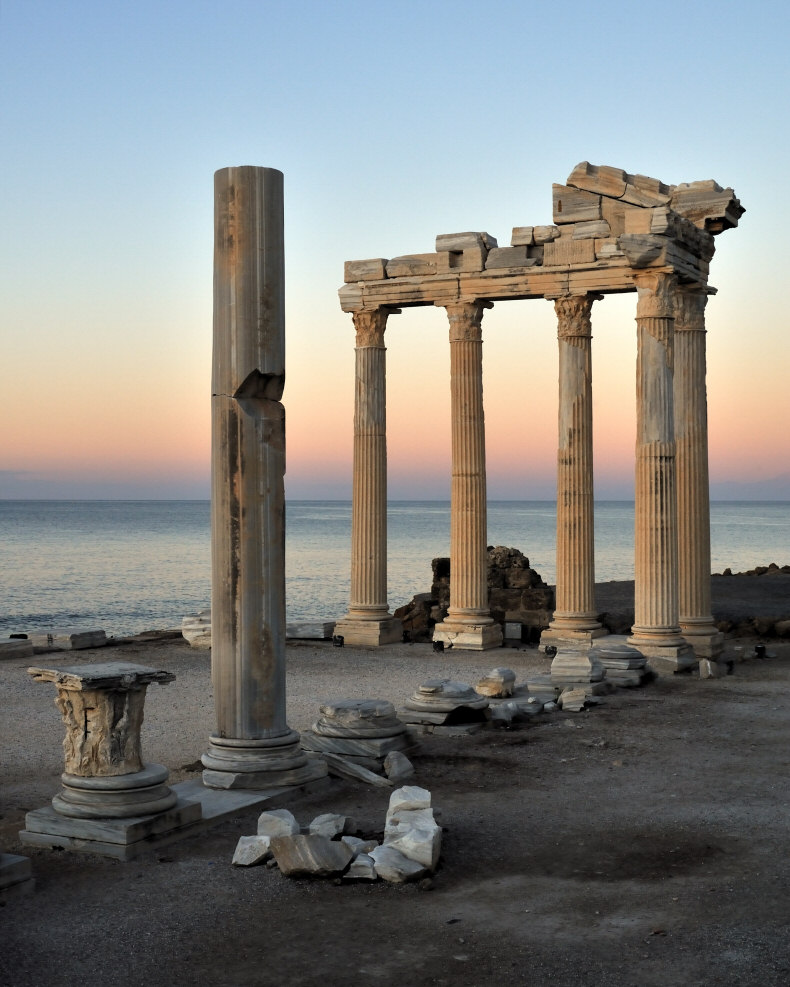 By Saffron Blaze via Wikimedia Commons
---
5) Aspendos Theatre
The Aspendos Theatre is a magnificent building with the ancient remains still well intact. It was built during the Roman Empire era and it had a seating capacity for about 20,000 spectators.
View of Aspendos Theatre from Upper Gallery: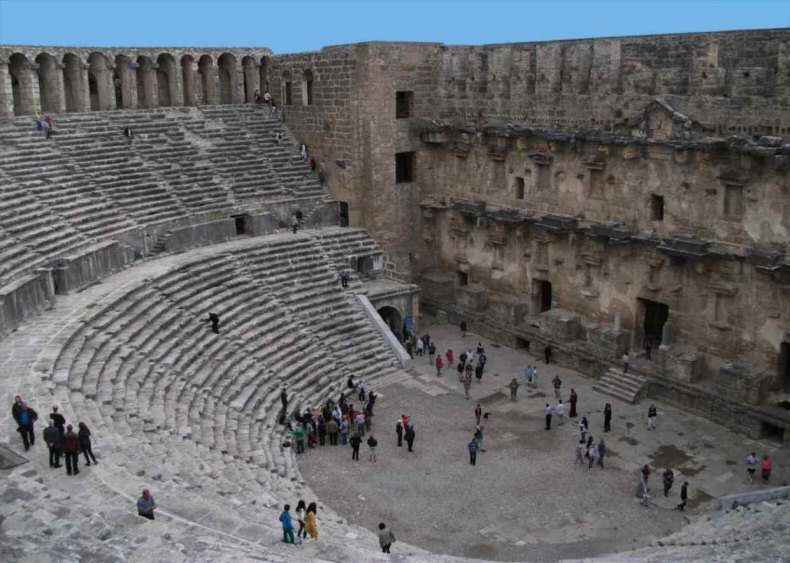 By Ukiws via Wikimedia Commons
---
4) Cappadocia
Cappadocia is famous for its unusual, yet stunning, landscapes. The landscapes portray the shapes of chimneys, cones, mushrooms and pinnacles. According to geomorphologists, ancient volcanic eruptions and years of erosion helped to shape these odd formations of landforms.
Cappadocia Region in Central Turkey: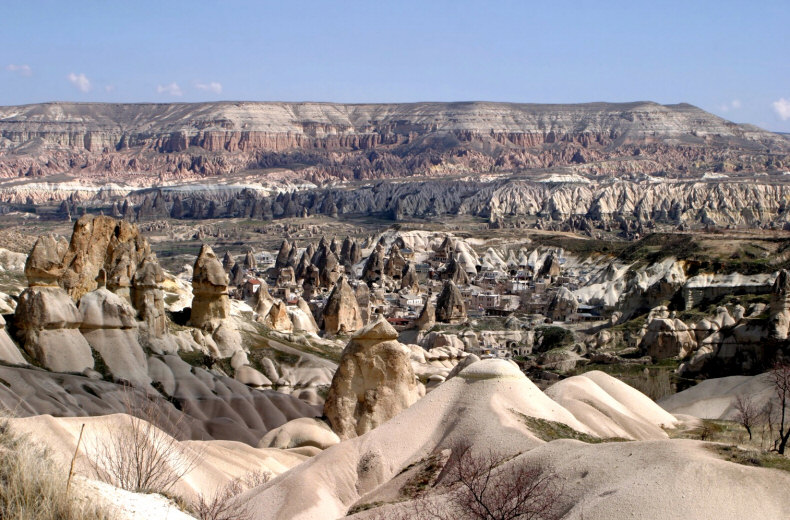 By Mila Zinkova via Wikimedia Commons
You will see amazing houses hand-carved out of soft stones thousands of years ago.
Town and Local Dwellings Carved into Cappadocia Landscape: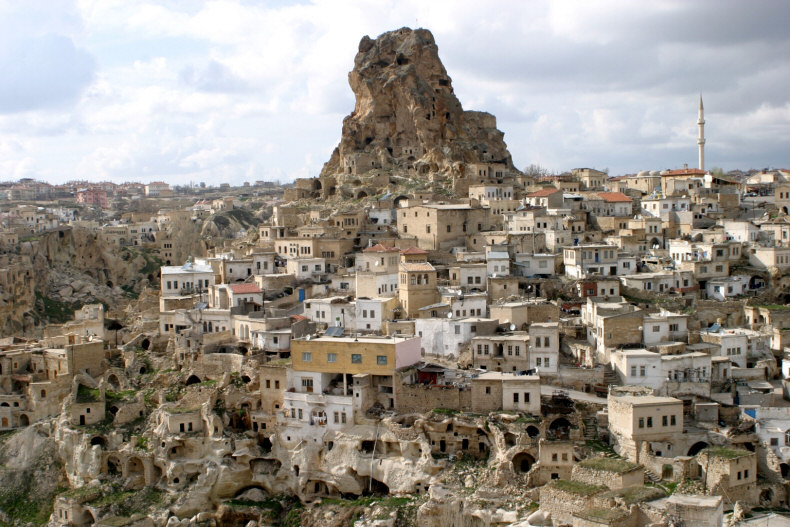 By Brocken Inaglory via Wikimedia Commons
---
3) Ephesus
The ancient city of Ephesus, which is still close to its original state, was an important town during the Roman period. The ruins of this area, which flourished in the first century B.C., have been well-preserved throughout the years on large archaeological sites. The most popular destinations include: the Temple of Hadrian, The Celsus Library and The Great Theatre.
The Celsus Library Ruins - Ephesus, Turkey: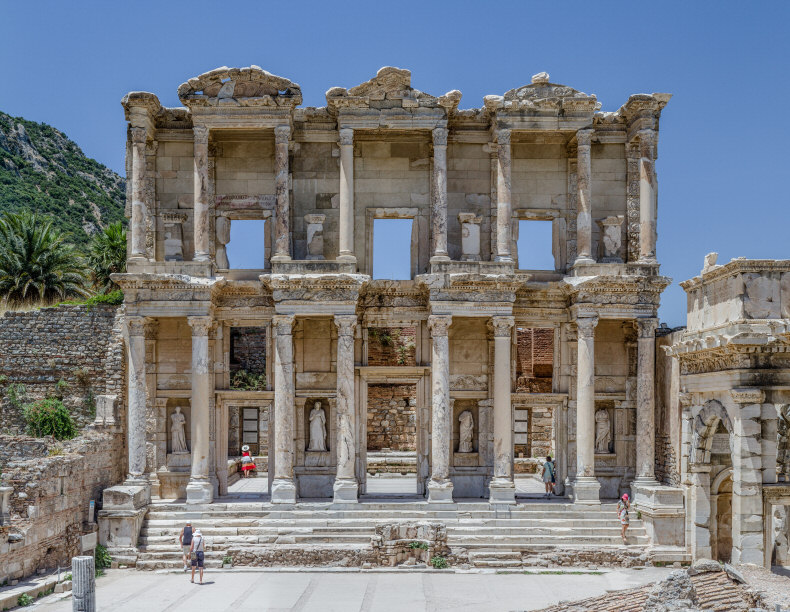 By Benh LIEU SONG via Wikimedia Commons
Ephesus was once famous for the Temple of Artemis, which is one of the seven Wonders of the World. A mob led by the archbishop of Constantinople destroyed it in 401 A.D.
Ruins of Temple of Artemis - Ephesus, Turkey: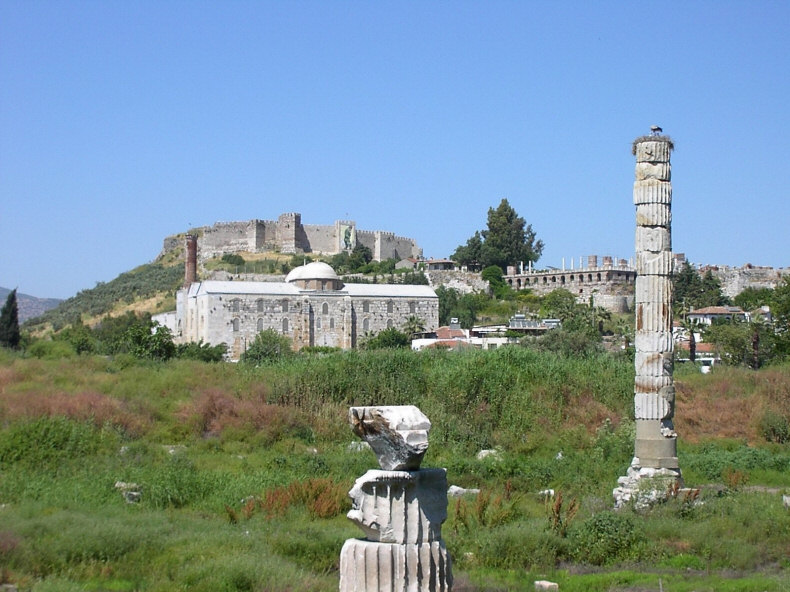 By Adam Carr via Wikimedia Commons
---
2) Pamukkale
Pamukkale is one of the best tourist attractions in Turkey. It is known to be a unique site for one of the natural wonders found in the world. It is a geological marvel which has been formed by white terraces. The terraces are sedimentary rocks deposited by water. The hot spring water flowing at Pamukkale is said to have therapeutic qualities.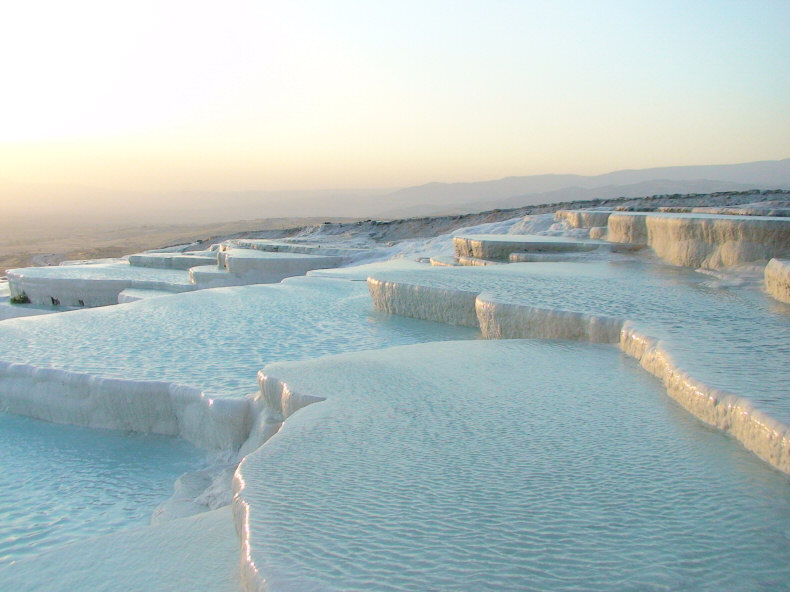 By Pvasiliadis via Wikimedia Commons
---
1) Istanbul
Located in both Asia and Europe; Istanbul is considered a worldly and transcontinental city due to their inspiration in finance, trade, and politics. They are also said to have the most influential hubs in the country regarding culture and economics. There are numerous places of interest and amazing attractions to enjoy. The area has a variety of art galleries, museums, eateries, and fabulous bazaars that keep tourists occupied for hours.
Some of the notable areas in Istanbul are:
Hagia Sophia - The Cathedral of St. Sophia, famously known to the world as a masterpiece of Byzantine architecture.
Blue Mosque - A splendid architectural example of the Turks after they conquered Constantinople in 1453.
Courtyard of the Blue Mosque at Dusk: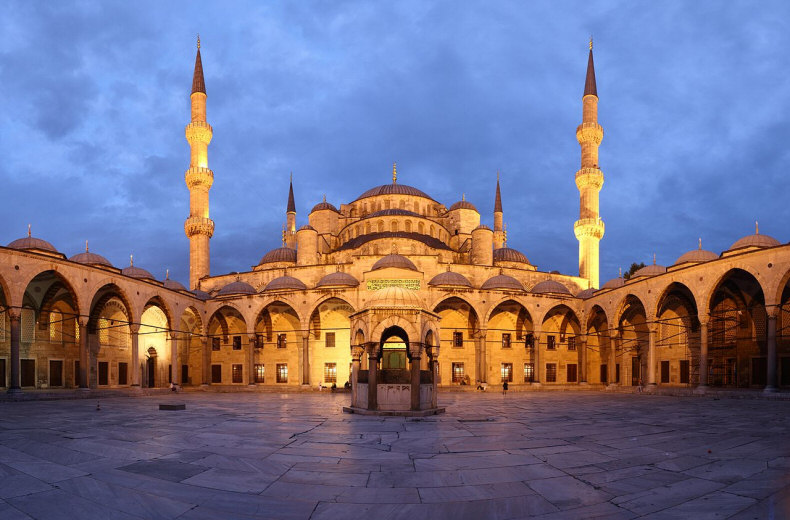 By Benh LIEU SONG via Wikimedia Commons
Topkapi Palace - The famous museum which served as the headquarters of the Ottoman Empire.
Topkapi Palace and the Golden Horn at Sunrise: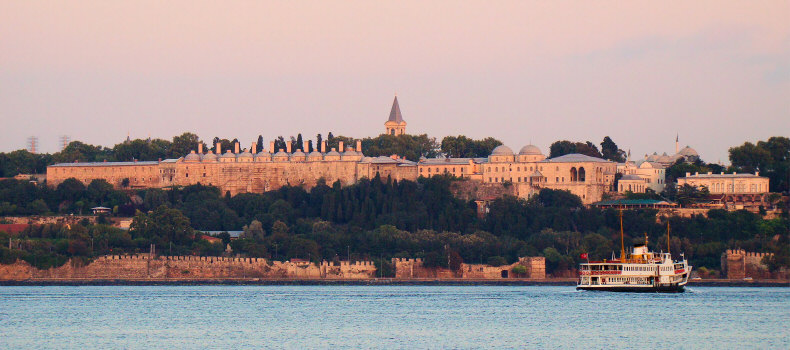 By Bjorn Christian Torrissen via Wikimedia Commons
The Grand Bazaar - One of the world's biggest covered markets, filled with hundreds of quaint shops, private hotels, marketplaces, restaurants, and mosques.
The Grand Bazaar: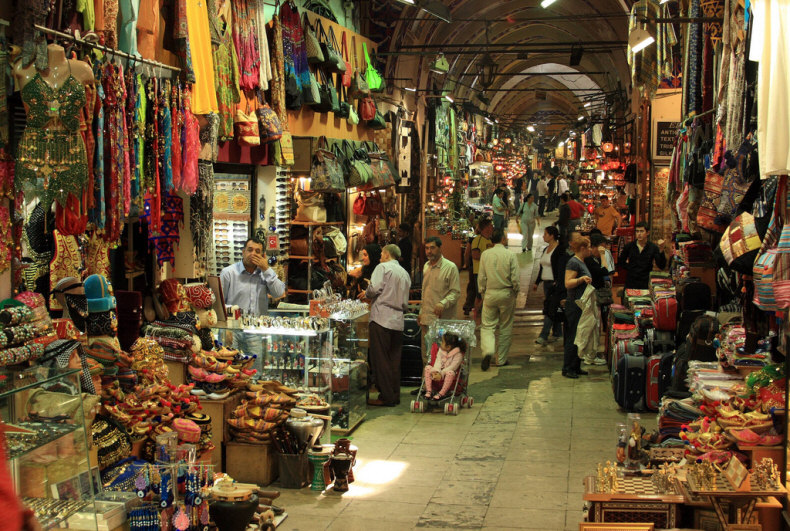 By Dmgutekin via Wikimedia Commons
The Ancient City of Pergamon
Temple of Trajan at Pergamon in Modern-day Turkey: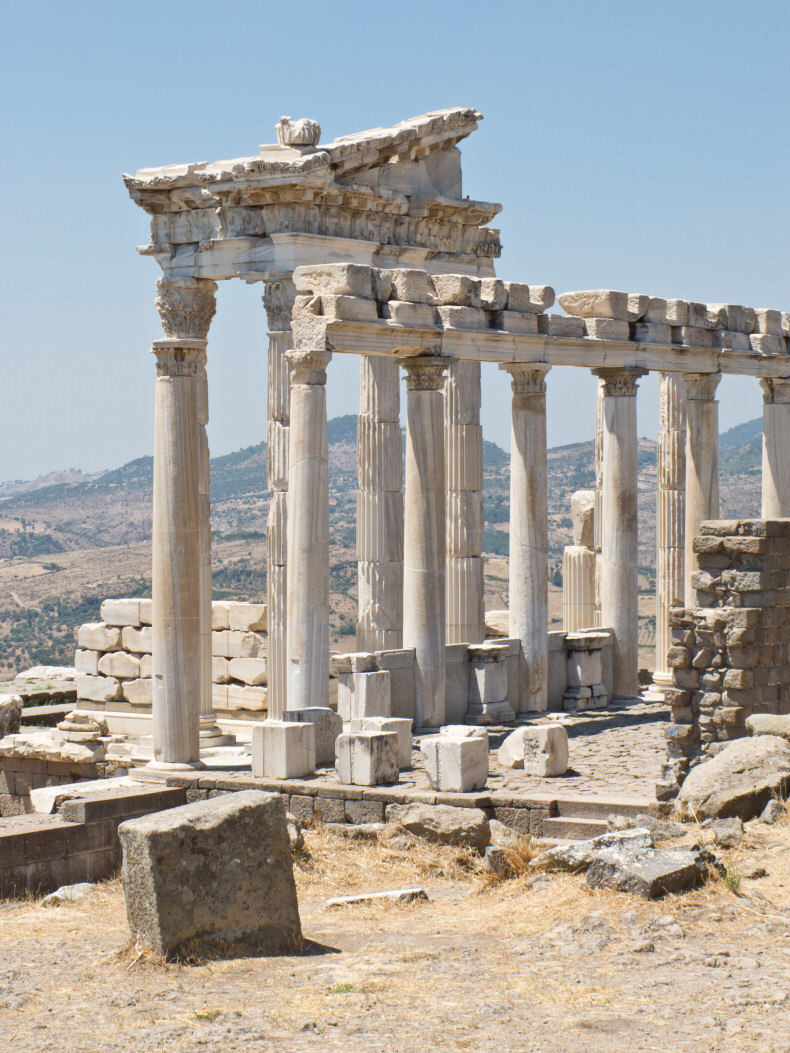 By Carlos Delgado via Wikimedia Commons
Patara Beach - This is one of the longest beaches in the Mediterranean.
Patara Beach:


By No More via Wikimedia Commons
Oludeniz - Extremely famous for its beautiful bay beaches and lagoons.
Oludeniz Beach: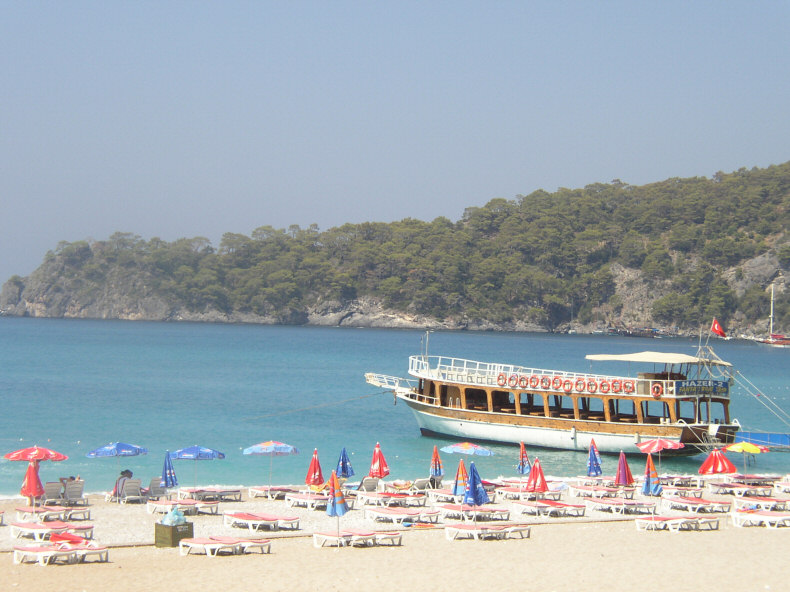 By Hessam M. Armandehi via Wikimedia Commons
---
Reasons to Choose a Certified Travel Agency
You can save a lot of money, time and organizing if you use the services provided by a travel agency or tour operator when it comes to traveling amongst Turkey (and other desired places of interest). Here are some reasons why one should use a travel agency when planning a trip:
100% flexibility which allows you to customize tour packages to fit your needs.
The advantage of being oriented to local customs and cuisines shown in native experienced guides.
24/7 services at your disposal during your trip.
Exclusive offers at discounted prices.
Various family packages, customized to fit your needs.
Informative information on tours to the best destinations or sites of interest.
---
In Conclusion
Your tours of Turkey will be truly fascinating! Gorgeous sandy beaches, stunning seaside views, breathtaking landscapes, edible Turkish delights, ancient historical sites, and many more exciting things to do and see. It is essential that you book your holiday plans well in advance to get the best deals.
Your Thoughts
Have you ever traveled to Turkey? If you would like to share your impressions and/or experience with others, please feel free to tell us about it in the comment section below.
Vacation Destinations
Top Lists:
Top 15 Interesting Places to Visit in the Bahamas
Top 15 Fun Things to Do in Miami, Florida
Top 15 Fun Things to Do in Chicago
Top 15 Best Unknown Things to do in Las Vegas
Top 15 Fun Things to Do in Hollywood
Top 10 Best Places to Visit in Turkey
The Top 15 Best Things to Do and See in Sydney
Top 10 Things to Do in Edinburgh
Top 10 Things to do on Oʻahu
Top 15 Things to Do in Albuquerque
Top 15 Interesting Places to Visit in Spain
Top 15 Places to Visit in New York City
Top 15 Things to Do in Portland Oregon
Top 15 Things to do in Greece
Top 15 Places to Visit in Houston Texas
Top 15 Interesting & Safe Places to Visit in Mexico
Top 15 Interesting Places to Visit in the Netherlands
Top 15 Interesting Places to Visit in Thailand
Top 15 Interesting Places to Visit in Switzerland
Top 15 Interesting Places to Visit in Portugal
Top 15 Places to Visit in San Francisco
Top 15 Interesting Places to Visit in Shanghai
Top 15 Interesting Places to Visit in Puerto Rico
Top 15 Interesting Places to Visit in Norway
Top 15 Interesting Places to Visit in Las Vegas
Top 15 Interesting Places to Visit in Jamaica
Top 15 Interesting Places to Visit in Croatia
Top 15 Interesting Places to Visit in Belgium
Top 15 Interesting Places to Visit in Bangkok
Top 15 Things to Do in Rio de Janeiro
Top 15 Things to Do in Monaco
Top 15 Interesting Places to Visit in Dubai
Top 15 Interesting Places to Visit in Amsterdam
Top 15 Things to Do in New Zealand
Top 15 Interesting Places to Visit in Paris
Top 15 Interesting Places to Visit in Italy
Top 15 Interesting Places to Visit in Singapore
Top 15 Most Interesting Places to Visit in Berlin
Top 15 Best London Attractions
15 Little Known Facts About New York City
Disney World Articles
Top 15 Disney World Rides for Adults
Top 15 Disney World Rides for Kids
Top 15 Disney World Resorts for Adults
Top 15 Disney World Resorts for Kids
15 Fascinating Facts About Disney World
Top 15 Fun Things to Do at Disney World's Animal Kingdom
Top 15 Fun Things to Do at Disney's Hollywood Studios
Top 15 Fun Things to Do at Disney World's Epcot
Top 15 Fun Things to Do at Disney World's Magic Kingdom

Shorter Top Lists:
Top 10 Tourist Attractions in San Diego
Top 10 Tourist Attractions In India
Top 10 Things to Do In Kansas City
5 Places You Should not Miss in Brazil
Top 5 Things to do in New York City

Informational:
Best Tourist Attractions In Vietnam
Taking in the Sights in Shanghai
Top Tourist Attractions in Perth, Australia
Nice places to visit while in Great Britain
Sampling the Foods at the Night Markets in Taipei
What to do for a Kenya Vacation
Best Attractions in Victoria, B.C.
Photos of the Luxor Hotel in Las Vegas