Top 15 Best Unknown Things to do in Las Vegas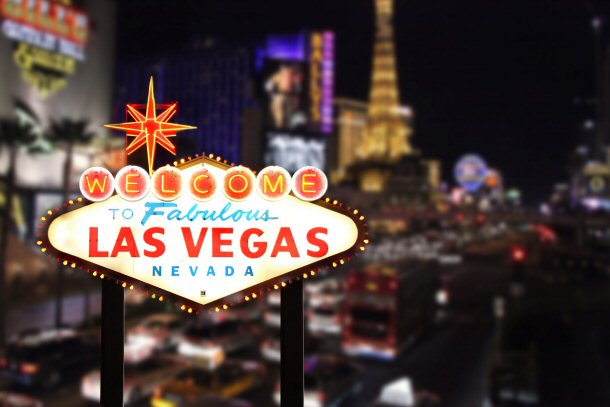 For Americans, a trip to Las Vegas is the ultimate in party destinations. None of the rules and values of the rest of the country seem to apply in this sin-filled wonderland. That being said, Vegas still manages to be a great family destination as well as an adult playground. Part of the trick to enjoying Vegas every time is knowing where to look for unusual things to do. There are the typical tourist attractions, but Vegas has much more to offer its visitors than casinos and lively shows. For those wanting to experience the city beyond its abundance of fat Elvis's and wedding chapels, there are a myriad of lesser known attractions to explore in Las Vegas. There is a great attraction for every kind of person on or near this strip that never sleeps.
---
15) Land Sailing
Ahoy! The desert of the Southwest may not be covered in shimmering bodies of water but Las Vegas more than makes up for this by offering a truly unique experience, land sailing. The concept is pretty modern but it works simply enough. People sit in little buggies with sails attached and they roll around the Las Vegas desert by catching the wind in their sails. The sailing is available seasonally when the wind and the weather are the most agreeable. Land sailing a beautiful scenic experience and more importantly, it is fun to do.
The typical voyage offered by Omega Land Sailing is a day trip on a Saturday. Participants sail around a large dry lakebed outside of Las Vegas, enjoying the speed and the views. Real adventurers should try out the Area 51 Dreamlands tour, which takes guests on a three-day journey to the mysterious Area 51 base. This tour is only available in the spring but it is well worth the time, as guests are treated much more luxuriously than typical sailors. Have fun rolling across the desert all day then enjoy top rated cuisine and lodgings at night. There will be no roughing it during gourmet meals and caring customer service. Land sailors can choose to explore the perimeter of Area 51 if they wish or they can spend more time relaxing in the nearby pools and hot springs. This attraction makes for a highly unique Vegas experience.
Omega Land Sailing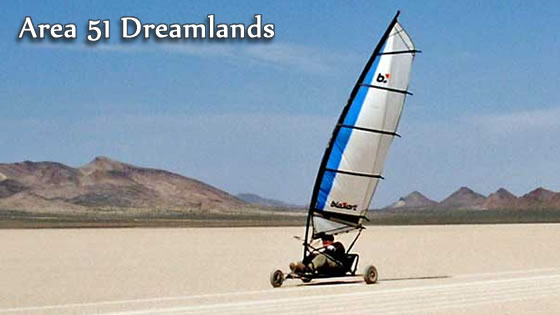 Courtesy of www.omegalandsailing.com
---
14) Garden of the Gods Pools
These little oases can be found at Caesar's Palace, despite that people are often too busy touring the strip to lay back and relax by the pool. However, at the Garden of the Gods pools every second spent there is more than rewarding. Guests enjoy ample food choices, great service and cool, crystal-clear water. If you are looking for new things to do in Vegas then try treating yourself to a completely new pool experience.
Guests can choose from eight pristine pools with heavenly names, such as: The Apollo Pool, The Jupiter Pool and the Venus Pool. The surroundings include beautiful fountains, luxurious tanning chairs and an 18-foot waterfall. It is Vegas after all, so feel free to gamble and play swim-up blackjack all day. Fully stocked cabanas with food, TVs, seating and wireless Internet are available for whenever someone needs a break from the sun. Vegas is so fast-paced, that people often feel like they didn't get to enjoy their vacation but Garden of the Gods Pools allows you to relax as you are supposed to do on your vacation.
Garden of the Gods Pools in Caesar's Palace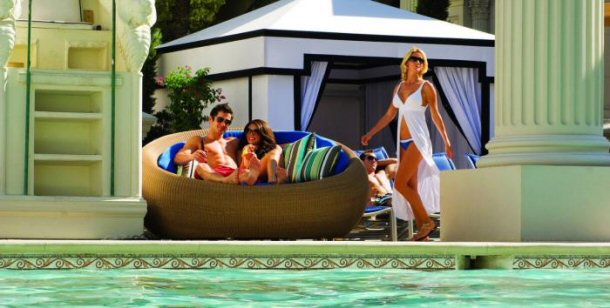 Courtesy of www.caesarspalace.com
---
13) Slotzilla
The name suits this giant beast of an attraction because it's an enormous slot machine. It was scheduled to open in June 2013 but construction delays have pushed the public's patience just a little bit further. If anything, it only helps to build anticipation for a truly unique experience. On the outside, the building itself will be the world's largest slot machine. On the inside, adventure-seeking gamblers can experience an exhilarating zipline experience. The indoor zipline will be called a Zoomline and thankfully enough, this is one of the few attractions in Vegas expected to cost under $50.
First-timers can test out the waters on the lower level, where a traditional-style zipline will take them down 70 feet using the force of gravity. Braver souls can take on the upper level Zoomline and drop 170 feet. Perhaps "drop" isn't the best word because this zipline, instead of simply relying on gravity, actually launches people face-downward to the ground. In true Las Vegas fashion, the giant slot machine lever will pull down each time someone takes the upper-level plunge and the slots will spin. According to Vital Vegas, the humongous 37 foot tall showgirl sign on the side of the building is based on actual showgirl Porsha Revesz. Another equally lofty sign will soon be erected in the image of Revesz's fellow showgirl, Jennifer Johnson. The giant structure is hoped to incur a revival of interest in the downtown Fremont area. If there is one thing we can guarantee, it's that this new Vegas feature will not stay unknown for long once construction wraps up.
---
12) Dolphin Fun
It's not Sea World but there is plenty of aquatic fun to be had in Las Vegas and wimming with dolphins is one of those special opportunities that will never be forgotten. Staffed with expert marine specialists, the Mirage offers anyone age 13 and older the opportunity to be a dolphin trainer for a day. Temporary trainers spend the entire day helping to feed and interact with the dolphins. They will also get to watch standard medical procedures such as ultrasounds and pulse checks. This is not something that happens just anywhere; being trainer for a day at the Mirage means truly getting involved in the lives of these dolphins.
For a genuine one of a kind experience, the Mirage also offers a chance to paint with a dolphin. This does not mean simply painting while near a dolphin but both the dolphin and the painter will spend 20 minutes creating a watercolor painting together. The artist of the afternoon will get to keep the masterpiece along with a frame, the staff will even take a picture of the client and dolphin painting together for an impressive take home gift. Painting with a dolphin is remarkable for anywhere in the world and a photo of it certainly beats old playing cards as a souvenir. According to the Mirage, painting also helps the dolphins by mentally stimulating them through art. It keeps the dolphins happier and healthier, while bringing joy to anyone who comes to visit as well as paint.
---
11) Dune Buggies
This is not one of Vegas' cheapest options but it's certainly one of the most fun ones. Renting a dune buggy here does not mean renting an all terrain vehicle, it means driving an actual dune buggy. Sun Buggy, the rental company, does rent out ATVs as well but the true thrill is riding the Vegas dunes on a genuine buggy. According to Sun Buggy Fun Rentals, they will travel as far as the Amargosa Big Dunes and they hold exclusive authority to explore cool nonpublic locations like the Valley of Fire but the typical must try package is the off road buggy tour.
The Vegas Dunes Off Road Buggy Tour sets patrons up in their own dune buggies, regular buggies seat four or five people, where they follow a tour guide for about half an hour all over the dunes that overlook the Las Vegas Valley. This buggy ride can be as rough and fast or as gentle and slow as the driver wishes. Racing and having fun is especially encouraged, guides don't mind at all watching as guests try in vain to climb some of the tallest dunes. This will give families looking for unknown things to do in Las Vegas the chance to spend some quality time together on vacation.
---
10) Food Challenges
Which force is greater, man or food? Foodies from all over can put themselves to the test at various places in Las Vegas. The Monte Carlo in particular is one of the best places to visit in Vegas for a food mission, with its "Death Wing" 20-piece basket and its whopping four-pound burrito. At the BRAND steakhouse big eaters can try their hands at the 120-ounce steak, meant for six hungry people, with sides and sauces included. Anyone who manages to finish off this $250 food extravaganza alone eats for free. The Monte Carlo Pub cooks up an equally intimidating four-pound burger topped with all the fixings. The total weight of the burger comes to eight pounds. That, plus a full boot of beer, and most people can't even summon the appetite to try it. Only about 100 have taken the challenge on and only a staggering three people have finished this ultimate American dish.
Food challenges are fantastic for a Vegas trip because not everybody remembers to go for them, and they can be completed at regular meal times. This saves more time to try out other unknown attractions in sin city. After a day full of indoor ziplining and painting with dolphins, nothing could hit the spot like an eight-pound nacho plate at Planet Hollywood. Las Vegas is a city that offers enough to conquer any appetite for a challenge.
---
9) Thrill Rides
One can chase nearly every thrill in this town but people often don't realize how extensive that list of thrills is. For all roller coaster junkies out there, Vegas is the home of an indoor roller coaster mecca. Circus Circus is a classic Las Vegas hotel with a full on amusement park inside. At the Adventuredome, the roller coaster enthusiast can find treasures like The Canyon Blaster, which boasts the only double corkscrew, double-loop indoor roller coaster in the world.
Circus Circus is one of the few remaining casinos that existed when the strip first opened. While countless casinos have opened and closed their doors over the decades, Circus Circus and only four other casinos have managed to hold steady through various economic climates. This place is a museum exhibit in its own right and the shows are nothing short of spectacular. The atmosphere is all about having as much fun as possible. For those coming to Vegas with children, hotels like Circus Circus can make Vegas fun for everybody.
Circus Circus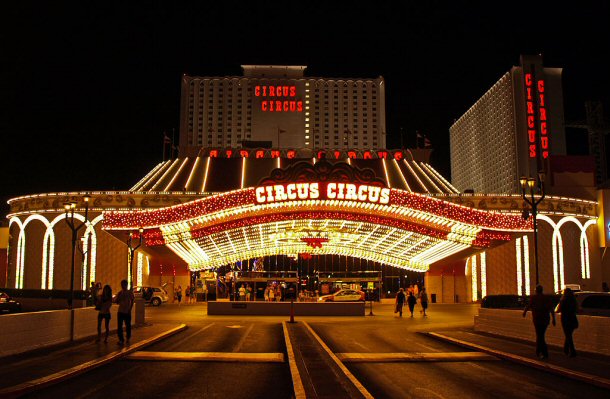 By Mutari, via Wikimedia Commons
Circus Circus Adventure Dome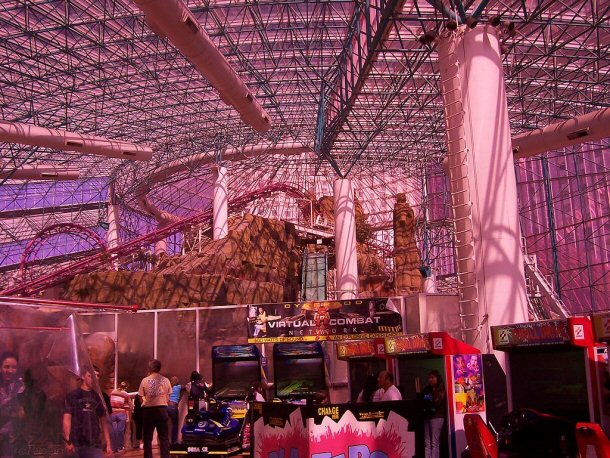 By Michael180, via Wikimedia Commons
---
8) Joy Rides in a Muscle Car
Not everyone has the stomach for roller coasters but most of us can get comfortable pretty quick in a brand new luxury vehicle. We think a nice ride in a Ford Mustang Shelby GT 500 could cure practically any illness, paying customers in Las Vegas can drive a brand new one and enjoy the scenic views of Red Rock Canyon. In fact, clients get to rotate through a few top muscle car models in case a Mustang on its own doesn't do the trick. In the American Muscle Car Driving Experience, the Mustang is only the beginning. Then there is the 2014 Dodge Challenger SRT8 Special Edition, a Corvette Z06 and finally a 2014 Camaro ZL1. For fatter wallets, the Red Rock Experience includes trial cars from exotic brands: Bentley, Lamborghini, Ferrari and more. Driving through the desert in one of these top quality imports would be an ultimate auto experience and some people care more about the car than the scenic drive. These car enthusiasts can check out the Las Vegas Motor speedway, where they can choose from companies such as Dream Racing and Exotics Racing to take a Ferrari racecar around the track at any speed they desire.
American Muscle Car Driving Experience



Courtesy of www.worldclassdriving.com
---
---
7) Sports Games
People often overlook the fact that Las Vegas is home to its very own college basketball team. Forget watching random games in smoky bars; sports lovers can feel the rush of a live game in sin city. The UNLV, University of Nevada, Las Vegas, Rebels play quite a good game of ball and hold up well against other competitive colleges. The school also offers other exciting college sports, such as: football, soccer, baseball and swimming. The local favorite still seems to be the basketball games.
In a city as exciting as Las Vegas, it can be easy to forget that there are still simple places to visit like a basketball arena or a soccer field. A family or group of friends could have a great time at one of these games to avoid the crowds and musty atmosphere of casino after casino. Not to mention, it would help support a local team. Go Rebels!
UNLV's Rebels



Courtesy of www.unlvrebels.com
---
6) Shooting Safaris
For gun enthusiasts, there is no greater pleasure than going shooting. Well, they might become even more excited if those guns happen to be valuable historic pieces of artillery. The Desert Lake Shooting Club offers a unique version of their Shooting Safari, called "Shooting through History". In this shooting tour, participants fire 17 different weapons in chronological order from the era they were used.
The first gun participants fire is a modern replica of the Flintlock Rifle, which was used in the Revolutionary War. Moving through such classics as the Colt SAA Revolver, the M-1 Garand Rifle and the Sniper Rifle. The tour ends with a just for fun round from a Smith & Wesson 460 Magnum. All shooting takes place outdoors for a more open, authentic experience. This is one of those things that only a city like Vegas could offer, yet it allows a total escape from the constant hustle and bustle that makes Vegas what it is.
The Desert Lake Shooting Club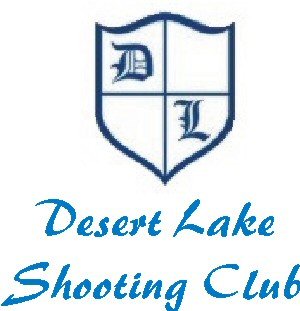 Courtesy of www.uspsa2.org
---
5) A Classier Way to Drink
Instead of loading up on booze then acting shamelessly at the casinos and clubs, try experiencing a classier night in Vegas. The Bellagio is one of those places to visit that will never disappoint, the luxurious hotel boasts 17 Sommeliers and 3 Master Sommeliers. According to Forbes, that's a world record for a hotel. Basically, this is the classiest place in Vegas and certainly the best hotel to try wine in. On the third Wednesday of each month the hotel holds a seminar for an hour and a half, analyzing eight different wine varieties as well as the nuances of their flavors. Everyone leaving these seminars will feel like a born again wine connoisseur.
Of course wine is an acquired taste, so for those who aren't tempted by musky scents and oaky overtones a mixology classes at the Monte Carlo are both fun as well as rewarding. The Monte Carlo's own Director of Beverage will teach four people how to create the perfect cocktail and the end of class always involves a thorough sampling. This is a great way to enjoy the finer things in life and take a small break from the wild party that is Las Vegas.
The Bellagio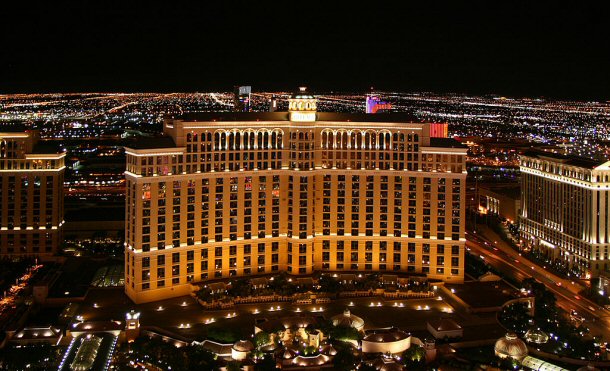 By Clément Bardot, via Wikimedia Commons
The Monte Carlo


By Sascha Brück, via Wikimedia Commons
---
4) Glow-in-the-Dark Mini Golf
Part of finding unknown things to do in Vegas is learning to appreciate smaller attractions and in Vegas even something as simple as mini golf can be thrilling. We know that most cities offer some kind of indoor mini golfing but it is pretty tough to beat the set up in Vegas. Monster Mini Golf has a KISS center, where anything and everything inside pays homage to the iconic band.
There are animated statues and glowing guitars galore but the center still offers a full 18-hole course to provide a full afternoon of enjoyment. Kids will love the fun glow in the dark atmosphere, while adults can reminisce about the glory days of KISS. The rock-and-roll atmosphere makes mini golfing much more fun and the lack of overhead lights makes the perspective of the game much more challenging as well as interesting. It's unlikely that any visitors will forget putting a ball through the mouth of a 12-foot-tall likeness of Gene Simmons' head.
---
3) Golf Lessons from a Legend
If mini golf still seems too touristy, regular golf lessons are one of the surprisingly fun things to do in Vegas but these are no average golfing lessons. When the word "golf" gets thrown around, usually only one name pops into our minds: Tiger Woods. Imagine being able to take lessons from the man who trained this legend. In Vegas, this is totally possible.
Butch Harmon dominated as Golf Digest's top-rated golf instructor in the United States for 12 consecutive years. He trained Tiger Woods for almost 10 years, spent time with other legends like Fred Couples and he now works with Phil Mickelson. At the Rio Secco Golf Club, anyone with the right budget can have access to this invaluable trainer. For a true chance to play a better game of golf, there is hardly anything better than this to do in America. For a less expensive lesson, feel free to sign up for instruction from his specialized staff because they hold classes all day every day. For the true die hard golfers out there, Harmon hosts multiday clinics.
---
2) A Chance to Be Shark Bait
The sharks don't pay that much attention to the swimmers but brave patrons can choose to swim with the sharks in Mandalay Bay. The area called "Shark Reef" is full of, somehow exciting, rare and dangerous predators. Certified scuba divers can spend the better part of an hour swimming with tiger sharks, nurse sharks, zebra sharks, sea turtles and many more marine species. The 1.3-million-gallon tank sits in plain view of other exotic predators, such as: golden crocodiles and piranhas. Thankfully, glass separates the divers from these more aggressive attackers.
The dive, which includes almost 10 species of sharks, is sure to satisfy any thrill seeker. Safety is a primary concern of the Mandalay Bay staff and they ensure that all participants are completely covered in light chainmail armor. The shallow depth of the tank protects divers from any risk of decompression and an experienced dive master will accompany each group for safety. People often throw around the phrase, "swimming with the sharks" but the lucky few guests who try out this attraction can say that they actually have done it.
Mandalay Bay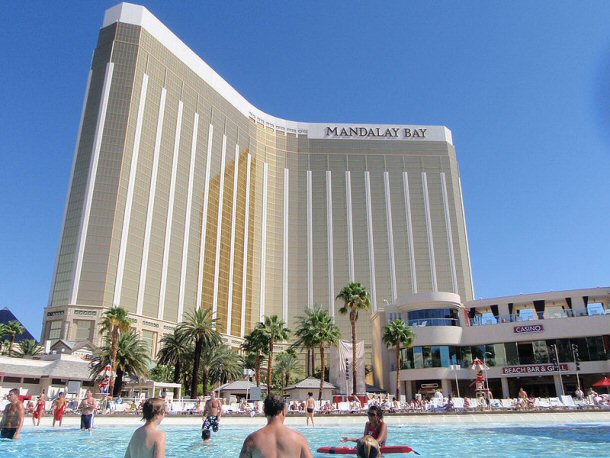 By Erin Khoo, via Wikimedia Commons
---
1) Wacky Museums
When we think of Las Vegas, words like "art" and "culture" don't exactly echo through our heads but Vegas has developed plenty of attractions that pay homage to the unique culture as well as history of this crazy city. There is a museum for every kind of person in Vegas, from the Pinball Hall of Fame to the Mob Museum. At the Pinball Hall of Fame, people can lose themselves for hours playing every classic pinball game they could ever want. The Mob Museum only opened in 2012 but it offers tons of fun information about organized crime.
The museums in Vegas are not like the average, stuffy museums found throughout the world either. For instance, the Neon museum is an outdoor collection of out of use neon displays that once helped illuminate the Vegas strip. One must take steps and ramps to see the entire display of iconic neon signs.
Most people don't ever bother to check out the National Atomic Testing Museum because of its mundane name but there is so much going on inside. The interactive exhibits help explain the infamous nuclear testing that took place very close to Vegas. Any alien enthusiasts in the group will also love the Area 51 display that covers an entirely different aspect of government experimentation.
Pinball Hall of Fame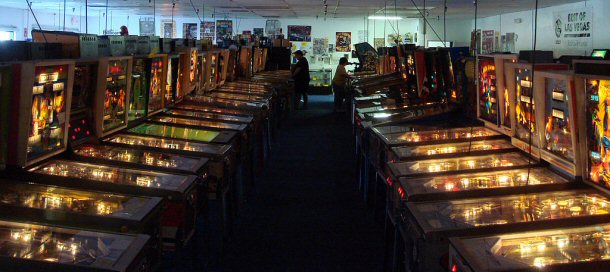 By Bobak Ha'Eri, via Wikimedia Commons
The Mob Museum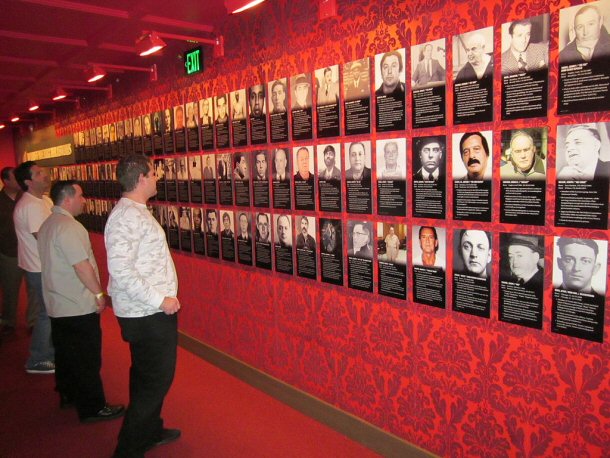 By Kremerbi, via Wikimedia Commons
National Atomic Testing Museum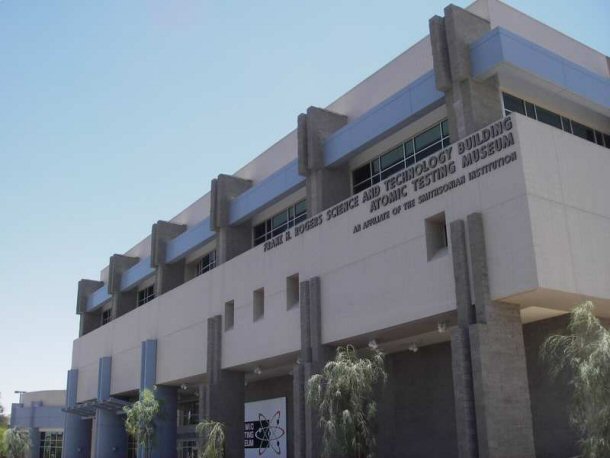 By zzyzx, via Wikimedia Commons
---
Final Words
When it comes down to it most people try to achieve the sensation that they did something special while on vacation. It's easy to become desensitized to all of the typical tourist attractions that Vegas offers but many people never look beyond the obvious to the new and exciting things going on in this unique metropolis. From death defying adventures to kooky museums, any person or group can live to the fullest in Vegas without sticking to the main stops. When people try out some of the lesser known attractions in Vegas, they won't want to leave their stories behind.
Vacation Destinations
Top Lists:
Top 15 Interesting Places to Visit in the Bahamas
Top 15 Fun Things to Do in Miami, Florida
Top 15 Fun Things to Do in Chicago
Top 15 Best Unknown Things to do in Las Vegas
Top 15 Fun Things to Do in Hollywood
Top 10 Best Places to Visit in Turkey
The Top 15 Best Things to Do and See in Sydney
Top 10 Things to Do in Edinburgh
Top 10 Things to do on Oʻahu
Top 15 Things to Do in Albuquerque
Top 15 Interesting Places to Visit in Spain
Top 15 Places to Visit in New York City
Top 15 Things to Do in Portland Oregon
Top 15 Things to do in Greece
Top 15 Places to Visit in Houston Texas
Top 15 Interesting & Safe Places to Visit in Mexico
Top 15 Interesting Places to Visit in the Netherlands
Top 15 Interesting Places to Visit in Thailand
Top 15 Interesting Places to Visit in Switzerland
Top 15 Interesting Places to Visit in Portugal
Top 15 Places to Visit in San Francisco
Top 15 Interesting Places to Visit in Shanghai
Top 15 Interesting Places to Visit in Puerto Rico
Top 15 Interesting Places to Visit in Norway
Top 15 Interesting Places to Visit in Las Vegas
Top 15 Interesting Places to Visit in Jamaica
Top 15 Interesting Places to Visit in Croatia
Top 15 Interesting Places to Visit in Belgium
Top 15 Interesting Places to Visit in Bangkok
Top 15 Things to Do in Rio de Janeiro
Top 15 Things to Do in Monaco
Top 15 Interesting Places to Visit in Dubai
Top 15 Interesting Places to Visit in Amsterdam
Top 15 Things to Do in New Zealand
Top 15 Interesting Places to Visit in Paris
Top 15 Interesting Places to Visit in Italy
Top 15 Interesting Places to Visit in Singapore
Top 15 Most Interesting Places to Visit in Berlin
Top 15 Best London Attractions
15 Little Known Facts About New York City
Disney World Articles
Top 15 Disney World Rides for Adults
Top 15 Disney World Rides for Kids
Top 15 Disney World Resorts for Adults
Top 15 Disney World Resorts for Kids
15 Fascinating Facts About Disney World
Top 15 Fun Things to Do at Disney World's Animal Kingdom
Top 15 Fun Things to Do at Disney's Hollywood Studios
Top 15 Fun Things to Do at Disney World's Epcot
Top 15 Fun Things to Do at Disney World's Magic Kingdom

Shorter Top Lists:
Top 10 Tourist Attractions in San Diego
Top 10 Tourist Attractions In India
Top 10 Things to Do In Kansas City
5 Places You Should not Miss in Brazil
Top 5 Things to do in New York City

Informational:
Best Tourist Attractions In Vietnam
Taking in the Sights in Shanghai
Top Tourist Attractions in Perth, Australia
Nice places to visit while in Great Britain
Sampling the Foods at the Night Markets in Taipei
What to do for a Kenya Vacation
Best Attractions in Victoria, B.C.
Photos of the Luxor Hotel in Las Vegas