Top 15 Best Chocolate Destinations in the World
Originating in Central to Southern America, the cocoa bean was and remains a kind of "brown gold." According to the Central American ancient cultures, the creator deity Quetzalcoatl presented them with the cocoa tree and they worshiped it accordingly. Cocoa seeds were used as one of their currencies, which says a lot about the worth of the plant in their culture, especially when compared to the worth of gold. It was the Mayans and Aztecs who began to cultivate the plant and make hot chocolate from its roasted beans. Mixed with water and corn flour, sometimes seasoned with chili, vanilla or honey, the resulting drink was a commodity among the Mesoamericans. So much so that cups filled with the so-called Xocolatl were placed in front of the graves of dead aristocrats on a daily basis. Christopher Columbus had his chance and blew it when he denied the gift of the almond-like fruit. As a result, when the Spaniards, led by Hernán Cortés, began to conquer Southern America, the reputation of being the culture that brought the drink to European courts went to them instead. It was also the Spaniards who carried the plant to eastern countries and from there, it spread across the remainder of the world.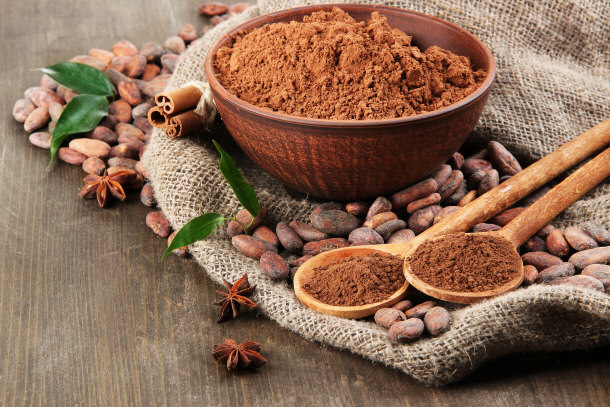 The credit for paving the way for chocolate bars, though, goes to the Dutchman Coenraad van Houten. He invented a process to de-oil the cocoa bean, so that cocoa powder and cocoa butter were separated. The rest is history melted in millions of mouths. Today, chocolate has evolved to a luxury once more, albeit a more affordable one, and it has become a versatile key ingredient in several dishes from sweet to savory. There are several good reasons for that too. Even though some may still cry that consuming chocolate results in weight-gain, the advantages of moderate consumption weigh out. Eating dark chocolate can lower blood pressure, slow signs of aging and contains the very chemical your brain produces when you're falling in love. So Remus Lupin offering Harry Potter chocolate after his encounter with Dementors is not because that's how magic in J.K. Rowling's world works, but is based on real scientific and chocolaty facts. Chocolate makes you happy and you can't even deny it. So why not take a look at 15 countries and places that are devoted to chocolate and therefore indirectly to your happiness?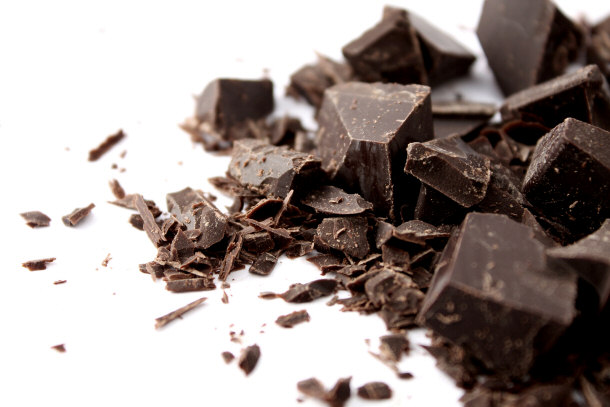 ---
15) USA, Hershey Chocolate Factory
Hershey's Chocolate, from the Hershey Kisses to the Hershey Chocolate Bars, is famous throughout the world. Listed as one of the world's sweetest companies, the Hershey Company produces more chocolate than any other factory in the United States. The Hershey Pennsylvania Chocolate Factory is also one of the oldest chocolate factories in North and South America and considering its history, that makes for one huge stroke of luck for the world. When he first established his company and factory, Milton Hershey did not expect them to be such a big hit. He actually started out offering Hershey Caramels, but then he decided to take a chance on chocolate. According to "The Milton S. Hershey Biography," many of his friends and family members thought that this was a bad idea. But he insisted that chocolate was the candy of the future, and it's a good thing that he did, for it proved true beyond even his greatest dreams.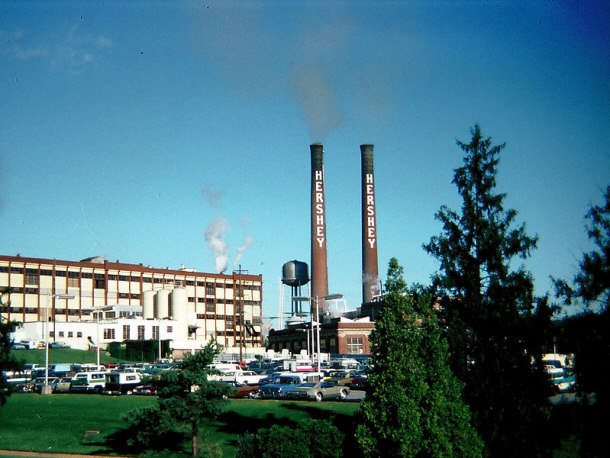 By Antarctic96 (Own work) [CC-BY-SA-3.0], via Wikimedia Commons
The first Hershey Chocolate Factory remains open to this day, though the oldest parts of the factory have been closed off to the public as of 1973. It continues to manufacture chocolates of all kinds, including the iconic Hershey Kisses. The Hershey Pennsylvania Hershey Chocolate Factory, also known as Hershey Chocolate World, is by far the most popular one. Visitors can take a tour of the factory and enjoy samples of the popular treats and combine it with the learning experience of how to make delicious milky chocolate.
---
14) Germany, Cologne Chocolate Museum
The world has had a love affair with chocolate that started almost 3,000 years ago and it's been going pretty steady ever since. While it was originally only known in a few places and only in a few variations, chocolate has grown in popularity significantly over the years. If you ever wondered where all in the world chocolate has had an impact and the way that various countries have developed this delicious treat to suit the local palate, the Cologne Chocolate Museum in Germany is the perfect place for you. It starts off with the "Drink of the Gods" display that develops the most ancient origins of chocolate and moves on through its development in the world.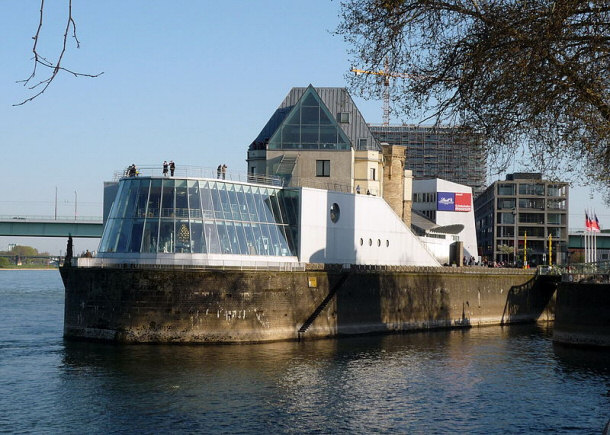 By Pedelecs [CC-BY-SA-3.0], via Wikimedia Commons
Tours are conducted regularly throughout the museum. All of the exhibits include information in both English and German. But it's not just reading material and exhibits. Most of the exhibits have interactive components as well, and the museum is heavily marketed toward children. "Go Germany" recommends that parents avoid letting their children taste all of the free samples as it might make them hyper as there are so many options. One of the biggest highlights of the museum is the Fountain of Chocolate. This 10 foot high chocolate fountain is intended for public consumption, and all guests are allowed to dip waffles into the chocolate for a tasty snack.
The chocolate fountain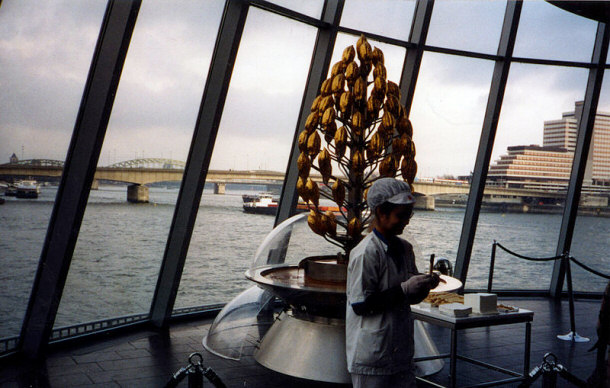 By InSapphoWeTrust from Los Angeles, California, USA [CC-BY-SA-2.0], via Wikimedia Commons
---
13) England, Bournemouth Chocolate Hotel
The world's first chocolate hotel is not made entirely out of chocolate. Rather, the establishment owned by Gerry Wilton, has a theme and sticks to it. With a décor to rouse your sweet-tooth, the hotel is also the venue for a variety of workshops and courses, all, of course, themed on chocolate. Visitors can expect to be treated to an indulgent time. To make matters even better, the hotel hosts various festivals such as the Chocolate Weekend Festival. The chocolate festivals are generally educational and involve the guests preparing their own chocolate treats and truffles.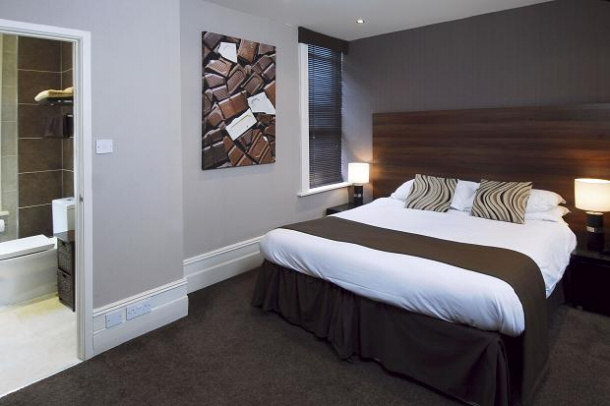 Every room and suite is named after a different kind of chocolate. The rooms themselves come with delicious chocolate samples as well as a history of the chocolate that the room is named for. Everything is in chocolate themed colors from the fixtures to the carpeting. The restaurant in the hotel has delicious food with plenty of healthy options as well as chocolate specials. Their house specialty is a thick hot chocolate made from cream and melted chocolate. Getting into this hotel may require you make reservations as it is in high demand, particularly during the chocolate festival.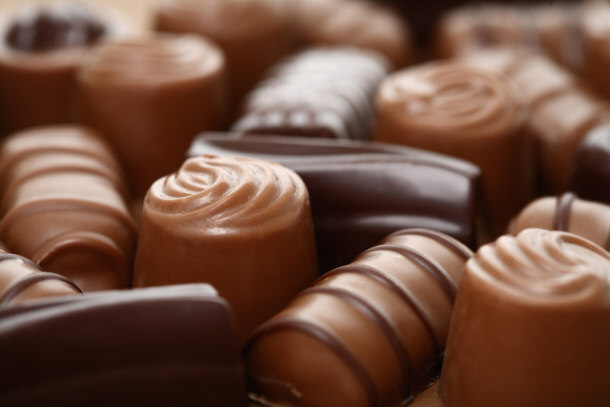 ---
12) St Lucia, Jade Mountain Estate Cocoa Festival
"Exotic Travels and Surprising Destinations" describes the St Lucia Jade Mountain Chocolate Festival as being one of the most romantic destinations for chocolate and culture in the world. It is hosted every year between October 11th and October 15th. The festival itself starts at 6 AM and it goes almost nonstop until the end of the day on October 15th.
The island of St. Lucia in the Carribean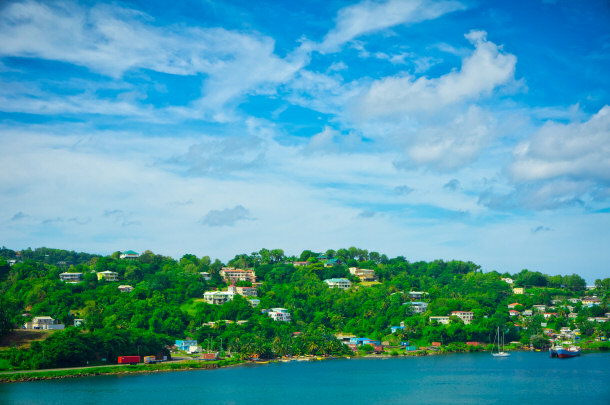 The festival includes lectures and lessons on chocolate. It also includes a number of competitions and romantic dining opportunities. They provide tours of the estate along with opportunities to sample various specialties and delicacies using all parts of the cocoa bean. According to their official website, the Cocoa Festival's most popular day is Sunday. On this day, they host a number of spa treatments and beauty sessions intended to revitalize the skin and soul with all kinds of chocolate. Some of these treatments are exclusive to the Jade Mountain Estate, and their recipes are well-kept secrets.
---
11) England, London Academy of Chocolate
Back in 2005, five of Britain's greatest chocolate professionals decided to open an academy. The purpose of the academy was to go beyond the mere tasting of chocolate and go into the deeper issues. While they believed that eating chocolate was one of the greatest pleasures in life, they wanted it to be more than just another appreciation of chocolate club. Thus the Academy developed to include debates and meetings devoted to better understanding chocolate and engaging all of the senses. The London Academy of Chocolate is involved in a number of activities related to chocolate, including encouraging appreciation and requesting ethical practices within the chocolate community.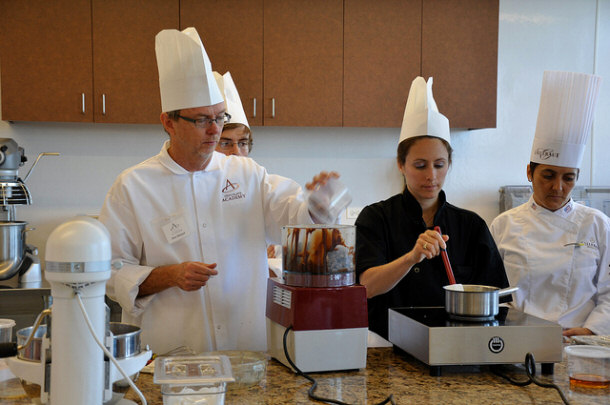 For those who want to take their appreciation of chocolate to the next level, the London Academy of Chocolate is an excellent stopping place. They have high standards for their debates and sessions. But at the same time, they host a number of educational events. Membership requires an application and acceptance based on merits in the chocolate community, but the official site states that they do open many events up to the public.
---
10) Italy, Eurochocolate Festival
This annual chocolate festival created by the famous architect Eugene Gaurducci has branched out from its 1993 origin in Perugia to other Italian cities, namely Rome and Turin. Over the course of nine days in October, visitors can snack their way across several plazas, streets and terraces and through the companies represented. All cocoa-producing companies are represented at the Rocca Paolina in the capital of Umbria, with exhibits that showcase each location's customs, traditions, and uses for chocolate. This permanent fixture of the festival lends the event its other name, the International Exhibition of Chocolate.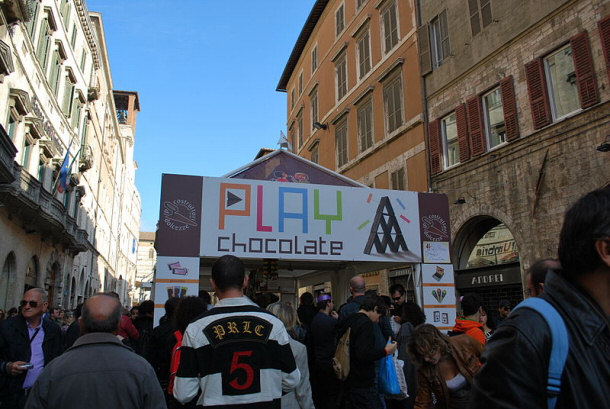 By Linda Tieu (originally posted to Flickr as Eurochocolate 2008) [CC-BY-2.0], via Wikimedia Commons
For a change of pace from all the luxurious indulgence, the festival also holds art displays with chocolate involved in mixed media works, sculptures carved on site from cubic meter blocks of the confection, experimental tastings of new products, and performances themed around the worldwide phenomenon. As of recent years, there have been noteworthy displays such as a chocolate igloo or a successful attempt at breaking the world record of producing the largest chocolate bar. Additionally, the festival is an excellent tourist stop for souvenirs, boasting unique freebies and purchase items from T-shirts and phone cases to pasta and liquor—all chocolate themed, of course.
---
---
9) Venezuela (El Rey)
Belonging to the few companies that produce their chocolate where the cocoa trees are grown, El Rey produces bittersweet, dark, and milk chocolates with a distinctive Andean flavor and a tradition stretching back to pre-Columbian times. The family-run business has expanded its lines to include blocks with various included ingredients as well, along with decadent covertures and roasted cocoa nibs. El Rey strives for fair practices, working to eliminate middlemen who undercut growers' profits to increase their own. Its chocolates remain reasonably priced for their quality, and though they sell worldwide, still retain a certain exclusive allure for the chocolate lover looking for something a little different. Part of this comes from the fact South America still doesn't have the same reputation for fine chocolate as Europe, mostly because so few are familiar with its history.
Caracas, Venezuela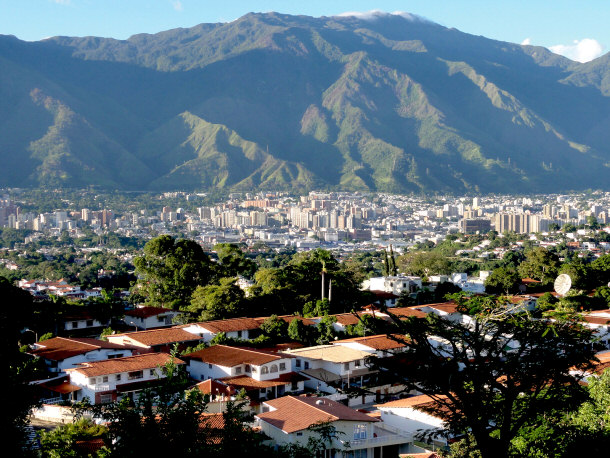 This is tragic, really, because Venezuela is one of the few places where you can still purchase chocolate from the endangered Criollo variety cacao plant, used in pre-Columbian trade across South and Central Americas as well as the Caribbean. Two other varieties of cacao, the hearty Forastero and Trinatario, create finely prized premium chocolates in worldwide markets. Don't miss out on the world's worst kept secret!
---
8) Mexico, Oaxaca
One of the markets that prizes Forastero and Trinatario cacaos is in a Southwestern state of Mexico best known for its 16 officially recognized indigenous cultures, including the Mixtecs and Zapotecs. With its rich native history and colonial-built industry, the rugged, mountainous region can easily prove the claim of being a traditional chocolate producing city, just like its neighbors to the south. Even though the beans aren't grown locally, several factories are located here, the most famous three being Mayordomo, La Soledad, and Guelaguetza.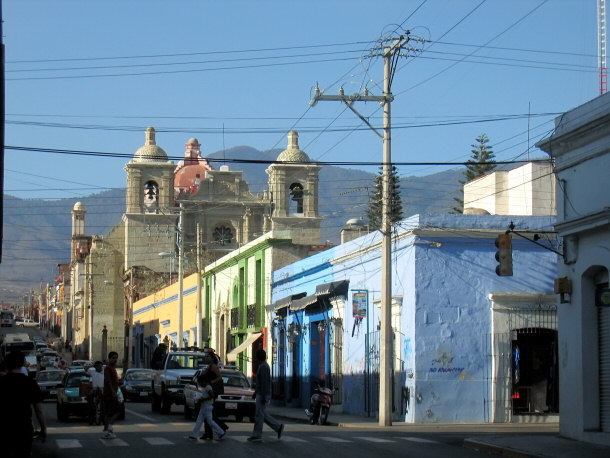 La Soledad and Mayordomo in particular provide custom chocolate mixing services, allowing customers specific proportions of ingredients and a selection of spices to include for the creation of unique blends. The most common product purchased this way is the famous Xocolatl drinking chocolate. Blocks and bars are sold the same way, and have a reputation for being very potent and dense. Besides the companies themselves, individual merchants line the downtown streets, each selling chocolate and related products all made from old family recipes. A popular time to visit Oaxaca is in July, during the indigenous festival of Guelaguetza. There are many public performances during this time, as well as private gift-giving events among the Zapotec people.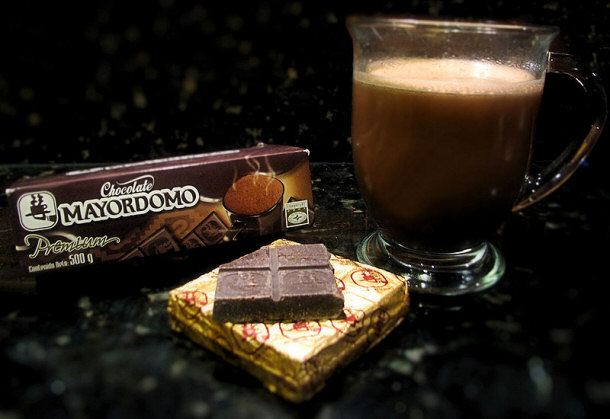 Nsaum75 at en.wikipedia [CC-BY-SA-3.0 or GFDL], from Wikimedia Commons
---
7) England, Green & Black's
Delicious organic and fair trade chocolate can be hard to find, but Green and Black's in England is one of those wonderful chocolate destinations that you have to see and taste to believe. All of the different chocolate options have top ingredients that are organic and environmentally friendly. Even the lighter calorie options have a rich flavor. Café Bebe, a vlog dedicated to fine chocolate and cuisine, recommends savoring the chocolate and letting it melt in your mouth rather than just chewing it up.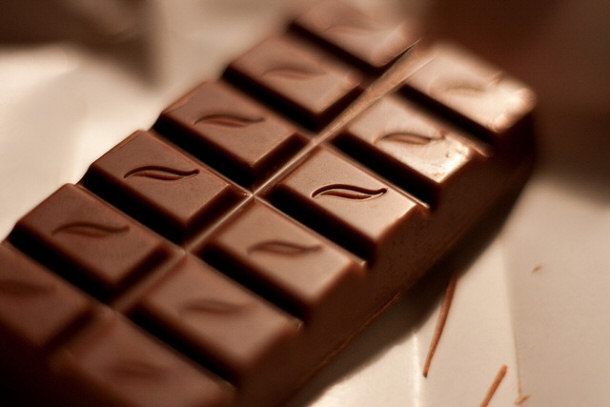 Their shop also includes a number of delicious chocolate options like brownies and cakes. This fair trade organic brand has turned a lot of heads, and it is considered one of the most desirable chocolates in all of Great Britain. Recently, Kraft purchased Green & Black's through Cadbury, but it has retained the Green & Black brand, much to everyone's relief.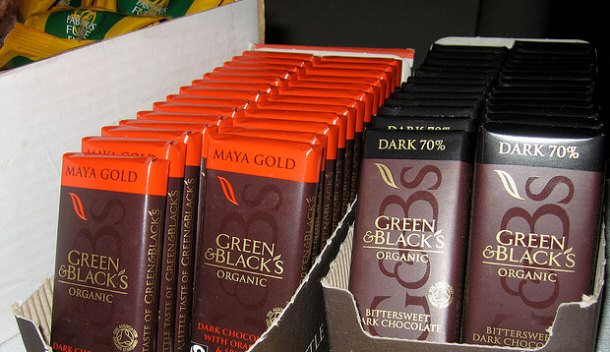 ---
6) Italy, Amedei
Amedei in Italy describes itself as "a dream which takes the shape of chocolate." They have developed an internationally known brand that started out from Cecillia Tessieri's love for chocolate. Her passion is well-focused as she is one of the only women in the world to be a chocolatier. The purpose was to incorporate the finest chocolate ingredients from the very best cocoa beans in the most exquisite flavorings to create the perfect chocolate. All of this came together to form the unique recipes that form the base of the Amedei brand.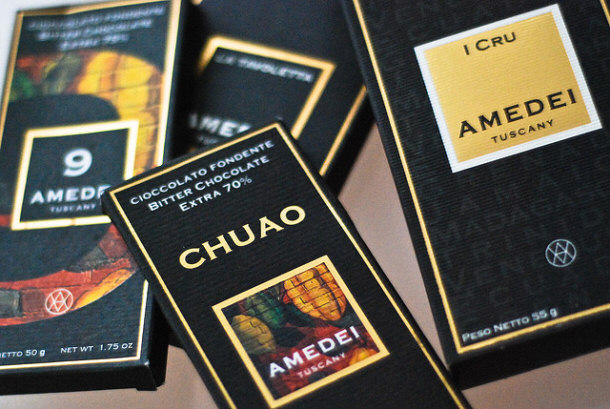 The entire process in the factory revolves around quality control. At certain times, it is opened to the public, but they always retain the highest standards. As they state on their official site, Amedei is the only Italian chocolate boutique that retains such intensive and comprehensive attentions to quality control from the initial production to the final product. Their attention to detail has won them many rewards, and many people come to the factory just to sample the latest creations. They regularly develop a number of delicious new chocolate desserts, treats, and the like, all of which use the highest ingredients, all while being mindful of the pay given to the cocoa farmers.
---
5) Spain, Valor
One of the best locations in Spain for chocolate is Valor. Valor Chocolate started out in 1881 with a well-deserved reputation as chocolate masters. Don Valeriano Lopez Lloret set his sights on creating a delicious chocolate based only on the purest raw ingredients. Set in Villajoyosa, this chocolate factory is one of the most popular chocolate destinations in Spain.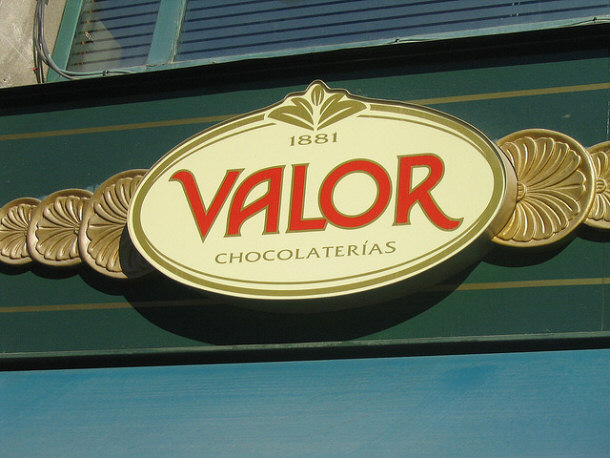 It's more than just a factory though. Valor Chocolates opened the Valor Chocolate Factory Museum Tour for weekdays. While the tours stop between two and four for the Spanish siesta, the museum offers regular tours at all other times. The tours run on the hour, and they do not have any extra costs. The tour includes information on the Valor family as well as making chocolate and current chocolate making techniques. It of course does include a look at the antique chocolate making utensils of the original factory as well as a number of delicious samples.
Valor's chocolate served with churros for dipping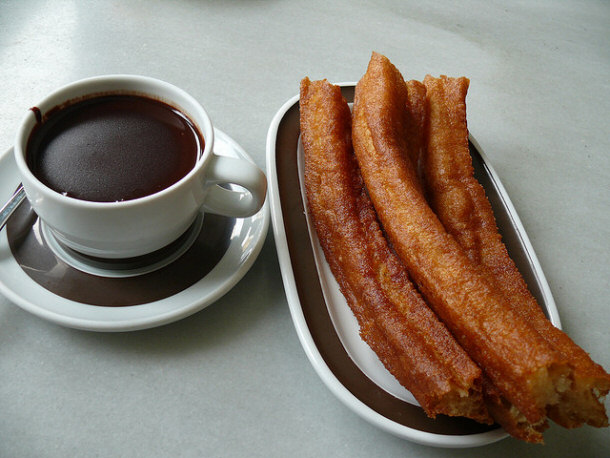 ---
4) Germany, Coppeneur
The Coppeneur Chocolate Maker offers some of Germany's finest chocolate creations. The store started in 1993 with the purpose of creating the most impeccable cocoa creations and chocolates. As many of the top locations have done, they insisted on using only the best raw ingredients, and these ingredients had to be purchased and used in their purest form. They also remain dedicated to ethical practices in the purchase of cocoa beans and the preparation of the chocolate. Their store, the Calgary Store, is run by the family. While they had to close recently because of flooding in the area, they have since reopened.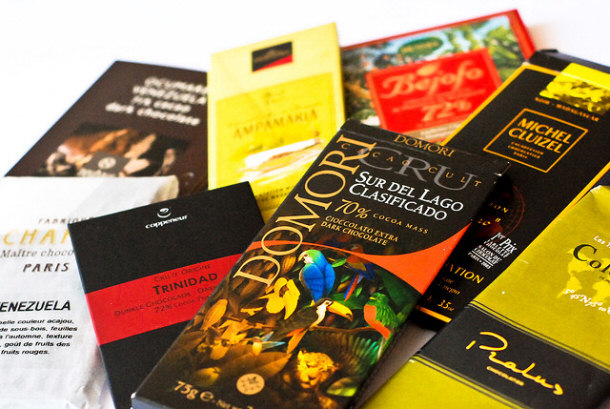 They sell their chocolates in a number of other stores, but the Calgary Store is one of the best locations. This one includes shortened tours so that the public can see how they prepare their products as well as the different steps that go into the unique product creation process. The shop windows are regularly decorated and decked out with seasonable displays. They also include a delicious selection of hot beverages, but their most famous is their hot chocolate selection.
---
3) France, various
Known generally for its high-class food and wine, France easily earns a spot on the list as a prime chocolate destination. The French bring their elegant, sophisticated culinary sensibilities to chocolate-making, creating a range of fine chocolates with artistic flair. There are hundreds of chocolate shops in the city of Paris alone, and any chocolate-loving visitor will surely find their own favorites among the crowd. A few of the best chocolate shops are François Pralus, Jacques Genin, La Maison du Chocolat, Weiss, and Michel Cluizel, among many others.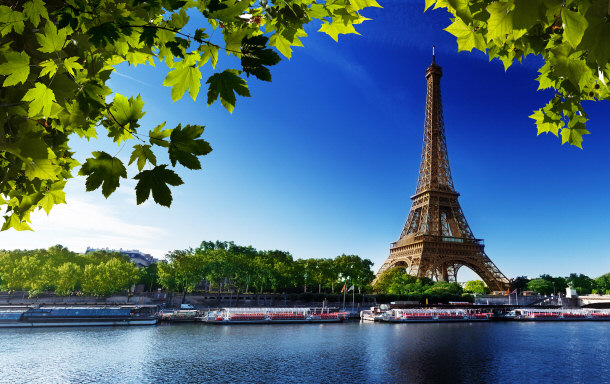 Paris also hosts the finals of the World Chocolate Masters, an international culinary competition dedicated entirely to the creative use of chocolate. Chocolate artists participate in national competitions to earn the right to represent their countries at the international finals, in which they must create several kinds of chocolates and chocolate-based desserts.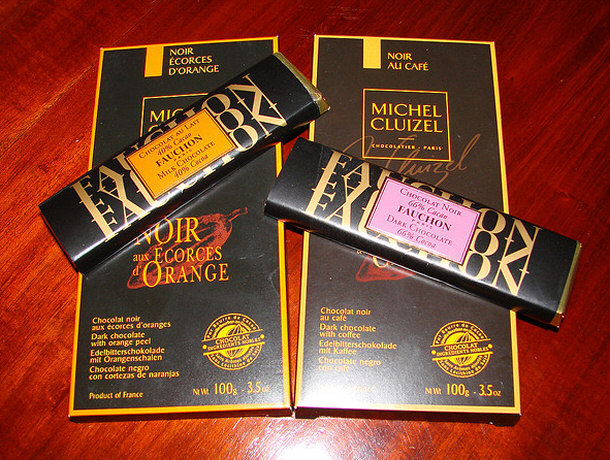 Leaving Paris, in the wine-making district of Hermitage near Lyon, is the luxury chocolate manufacturer Valrhona. The company produces world-famous chocolate, creating high-quality chocolate intended for commercial use by chefs as well as chocolates marketed for general purchase. The company maintains the École du Grand Chocolat, a school for professional chefs which focuses on chocolate use in pastries and other dishes.
---
2) Switzerland, various
The people of Switzerland know their chocolate; they consume more of it per capita than any other country on earth. Swiss chocolate is a byword for quality, and a prime example is the Swiss brand Lindt. The company's factory outside of Zurich is a major tourist attraction. At the factory store, chocolates can be purchased at a discount, and slightly imperfect chocolates are also available for half price. So if shopping for chocolates is your goal, be sure to tour the Lindt factory. But wandering through the surrounding villages will unearth a wealth of fine chocolate shops as well.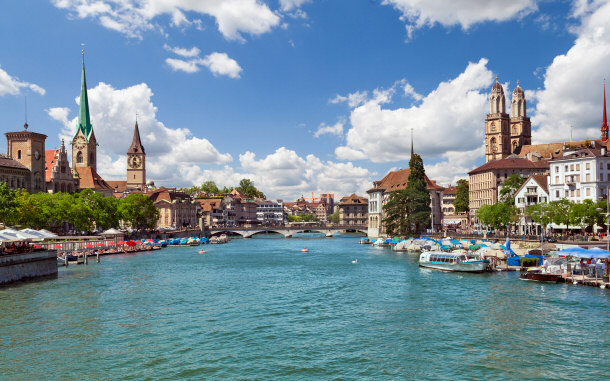 If you want a luxurious, immersive experience with chocolate and the Swiss countryside, book a ride on the Swiss Chocolate Train. The train is sponsored by Cailler-Nestle, another major Swiss chocolate producer. It departs from Montreux, ascends to Gruyere, where the famous Gruyere cheese was developed, and then continues on to Broc, home of the Cailler-Nestle chocolate factory. The train stops at Gruyere for tours of Gruyere castle and the cheese factory, and then ends with a tour of the Cailler-Nestle chocolate factory, chocolate tasting included. On the train, you can either ride in a vintage, first-class Pullman car or a modern panorama car, for the best possible views of the lovely Swiss countryside.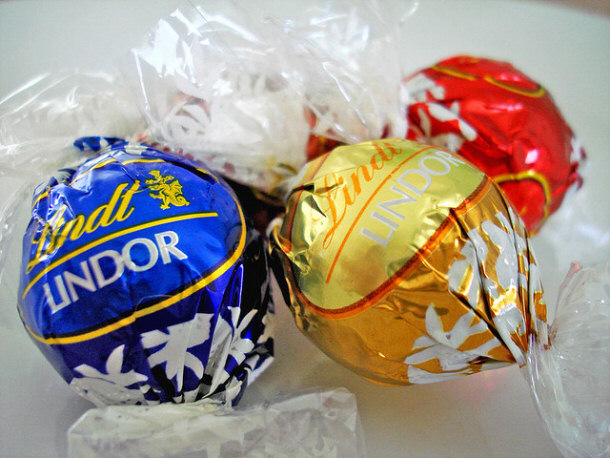 ---
1) Belgium, various
Belgium is a small European country, roughly the size of the state of Maryland, but nonetheless it is home to 12 different chocolate factories and over 2100 chocolate shops. The Belgians have developed chocolate into a serious, and seriously delicious, art form, and the center of Belgian chocolate culture is Brussels. Two world-famous chocolate companies are based there, Godiva and Leonidas, and many small boutique chocolate companies thrive in Brussels as well. It's a place where you can find a chocolate shop on nearly every street corner.
When you arrive in Brussels for your chocolate-tour, look up the Grand Sabion. It is a tiny square in the heart of the city which is home to several of Belgium's best chocolate shops, including Wittamar, Neuhaus, Pierre Marcolini, and Zaabar, as well as Godiva and Leonidas shops. While you're there, be sure to sample some pralines, chocolates filled with creamy pastes often based on nuts, which were developed in Brussels in 1912. More exotic chocolate treats can be found at Planète Chocolate on Rue du Lombard, including chocolates flavored with pepper and rose. If you are interested in the history of chocolate, visit the Musee du Cocao et du Chocolate for a tour of how chocolate is made.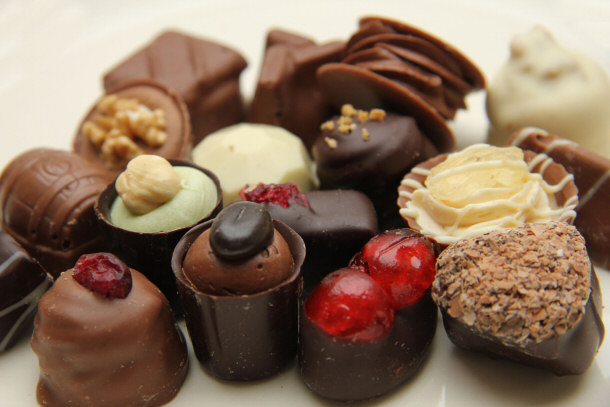 ---
Final Thoughts
With such an international selection of luxury treats, you're bound to find a little delicious piece of happiness on your next travels. Even if you're not planning a trip based primarily on touring chocolate factories, museums and festivals, keep these places in mind for when you get the chance to visit the surrounding area. Whatever the reason for your travel, you can literally spice it up and indulge yourself at the same time. Should you not be travelling anytime soon, there's no need to try and cheer yourself up with a common dark chocolate bar. Most companies listed have online shops or sell their delicious products in selected stores. Go ahead and look them up! Unlike the chocolate delicacies they produce, they don't look like they'll be vanishing anytime soon.
Locations
Top Lists:
15 Amazing Man-Made Islands
Top 15 Amazing Gothic Architecture Around the World
Top 15 Interesting Facts about Niagara Falls
Top 15 Fascinating Facts about the Great Wall of China
Top 15 Most Beautiful Mountain Ranges Around the World and How to Enjoy Them
Top 15 Famous Castles, Palaces, and Towers
Top 15 Best Zoos in the World
Top 10 Coldest Places in the World
Top 15 Most Beautiful Cities in the World
15 Fascinating Facts about the Eiffel Tower
Top 10 Best Museums in the World
Top 15 Most Famous Theatres in the World
Top 15 Largest Cathedrals in the World
Top 15 Famous Palaces in the World
Top 15 Largest Libraries in the World
15 Unique & Beautiful Tourist Attractions That Evolved By Mistake
Top 15 Best Chocolate Destinations in the World
Top 15 Cities with the Best Gourmet Food
15 Amazing Statues Unknown to the World
Top 10 Natural Wonders of the World
Top 10 Nightlife Cities in the World