Top 15 Cities with the Best Gourmet Food
All over the world, cities vie for the title of "gourmet city." Unfortunately, not every city is advanced enough in the culinary arts to wear this title. Those cities that have earned this title are renowned world-wide as homes to some of the most beautiful food and the most reputable gourmet restaurants. They represent a treasury of high quality cuisines. These cities are normally well-kept and governed so that those who visit will want to come back over and over—bringing both acclaim and tourism money. But perhaps more importantly, each of these cities has a true love and respect for the food that they create. While tourism is a necessary part of fame, not all of these cities are tourist traps. In fact, you may have never thought about some of these places as gourmet meccas. Regardless, one thing is certain: each of these cities are a must see for any food enthusiast who wishes to excite their taste buds.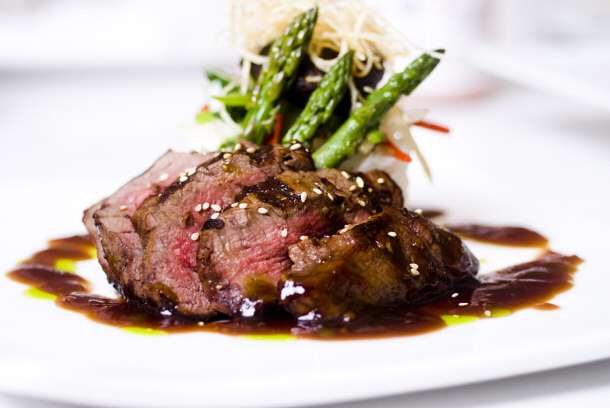 ---
15) Singapore, Singapore
The cuisine that can be found in Singapore has fused Chinese, Indian, Tamil, Peranakan, and Malaysian cuisines together and has its own twists and surprises for major foodies to enjoy. Some of the most popular local dishes include Roti Prata, Satay, chili crab, Char Kway Teow, fried carrot cake, Hainanese chicken rice, and barbequed stingray. One of the post popular dining experiences for tourists is the cities open-air food complex. Here, there are many different stalls that serve inexpensive, gourmet delights. Some of the most popular food stalls in the complex include Newton Circus Food Center, Chomp Chomp Food Center, Zion Road Riverview Food Center, and the Adam Road Food Center.
If you are looking for a more formal setting, you can check out any of the gourmet restaurants that Singapore has to offer. According to the Survival Chic website, La Maison Fatien is the top gourmet restaurant in Singapore. Located in Singapore's heritage district, La Maison Fatien is a classic French bistro that is a perfect option for lunch or dinner. Once a pre-war conservation house, La Maison Faiten provides a warm and welcoming environment for guests to enjoy an amazing meal. Other popular gourmet restaurants that are worth noting include il Lido, Mango Tree Restaurant, The Song of India, and Café Samar.
---
14) Honolulu, Hawaii
When most people think of Hawaii, they often think about scenic beaches and hula-dancing. However, Honolulu, Hawaii is an amazing city that will provide you with some amazing eats. The state as a whole has been home to several James Beard Award winners, including George Mavrothalassitis, Roy Yamaguchi, and Alan Wong. In Honolulu specifically, the cuisine is a unique mix of Asian cuisine and Pacific Island cuisine. Some of the top dishes that can be found in Honolulu include Kalua pork, Lau Lau, Poi, Lomi salmon, Poke, and butterfish. Some of the most popular Honolulu eateries include Kaka'ako Kitchen, Umeke Deli, Little Village Noodle House, Vino, and Yanagi Sushi.
If you are looking for restaurants that cater to fine dining tastes, you will have many different options available to you. One of the most elite options in Honolulu is Chef Mavro's. The menu at Chef Mavro's includes local favorites such as Hawaiian-raised shrimp that is dusted with garam masala, green apple remoulade, and poached lobster served with Pirie mango. Another popular option for fine dining is Alan Wong's. At Alan Wong's Pacific, fish is the star. The restaurant serves amazing local dishes, including ginger-crusted Onaga with miso-sesame vinaigrette, and Opakapaka with truffle Nage and tapioca pearls.
---
13) Fes, Morocco
The cuisine that can be found in Fes is influenced by Moorish, Berber, Mediterranean, African, and Arab cuisines. Unlike other cities, the main meal of the day in Fes is the midday meal. Some of the most popular foods in Fes cuisine include beef, couscous, poultry, lamb, local fruits, and sheep. These ingredients can be found in popular dishes like Tagine, Pastilla, and Harira. Though the restaurants in Fes feature some of the best Moroccan foods, they are also known for embracing cultures from around the world.
Dar Roumana is a popular restaurant in Fes that is known for fusing French, Mediterranean, and Moroccan cuisines together. According to the Trip Advisor website, Dar Roumana is rated the number one restaurant that you should visit while in Fes. According to reviews, the most popular dishes served at Dar Roumana include braised rabbit, goat cheese soufflé, and poached pear and raspberries. If you are looking for an eatery that is more laid back, you could try Thami's. This restaurant offers local cuisine to those looking to spend less. The menu features dishes such as chicken Tagine, a Moroccan salad, Pastilla, and couscous and vegetables.
---
12) Sicily, Italy
The cuisine in Sicily, Italy is mostly created around fish and sea food. Most of the dishes that you can find in Sicilian cuisine include a variety of fresh vegetables that are grown near Mount Etna. Traditional Sicilian dishes show traces of Greek, Arab, Roman, and Norman influences. It is rare to find a Sicilian dish that does not contain ingredients that are produced locally. Some of the most popular ingredients used in Sicilian cuisine include eggplants, olives, capers, swordfish, veal, and wine. Some of the most popular dishes include Caponeta, Arancine, grilled fish, and veal Marsala. Sicilian cuisine is also known to include some of the best dessert foods that you will ever find. Popular dessert choices include Cassata, Cannoli, Frutta di Martorana, and Gelato.
One of the most important things to remember about Sicilian cuisine is that it is seasonal. During winter, the local markets carry grapes, mandarins, and oranges. Famous dishes during the winter include Paninis, Arancine, Cannolis, and Marzipan sweets. During spring time strawberries, apricots, sweet pears, and cherries are found in local markets. Popular dishes during spring include fresh pastas, swordfish, and tuna. Summer produce includes peaches, prunes, watermelon, and cantaloupe. Meals that are popular during summer include Gelo Di Melone and other refreshing offerings. In autumn, you will be able to find olives, prickly pears, and chestnuts. Dishes such as Caponata and Pepronata are some of the most popular during this time of the year.
---
11) Menorca, Spain
The cuisine in Menorca has traces of medieval Islamic and Catalan cuisine, and often reflects the religious beliefs of its people. For example, the foods that can be found in Menorca during Holy Week are some of the city's most popular. During Holy Week, the popular dishes that are served include fish stew, Sopa de Ajo, pork loin pie, Torrijas, Easter doughnuts, and Passtissets, according to the Menorca Live website. Each of these dishes are approved for eating during Holy Week, but they are also staples in the Menorcan culture.
The recipes that have been developed in Menorca have made the city popular for many different food enthusiasts. Famous recipes that have been developed in Menorca include mayonnaise, lobster stew, Mao cheese, and Carquinyois. Other famous Menorcan dishes include Rubiols, Menorcan-Style stuffed Aubergines, and Panades. Some of the best restaurants to experience while in Menorca include Sa Pedrera des Pujol, Es Cranc, Biniarroca, and La Caraba. Visiting any of these restaurants in Menorca will allow you to truly experience Menorcan cuisine.
---
10) Napa Valley, California
When most people think of Napa Valley, California, they think about a relaxing day at one of the many wineries. What many people overlook is that Napa Valley is home to some of the best cuisine that California has to offer. In Napa Valley, it is common for dishes to be prepared with fresh ingredients that are harvested on a daily basis. The cuisine style of most local Napa Valley restaurants is a fusion on Pan-Pacific cuisine and ingredients that are grown locally. Napa Valley cuisine is also strongly influenced by Spanish, Italian, and Mexican cuisine.
Because freshness is the key to many Napa Valley dishes, menus change on a seasonal, and even daily, basis. True to Napa Valley roots, almost every dish that is served is strategically paired with a wine that will complement the dish. For the most part, Napa Valley cuisine is about portraying a high level of class and style with each meal. While this means that the foods provided are of high quality, it can also mean that they are more expensive. Some of the top rated Napa Valley restaurants include Bosko's Trattoria, Bounty Hunter Wine Bar, and Celadon.
---
---
9) Sydney, Australia
The gourmet dining scene in Sydney is characterized by the global view of its diners, food producers, and chefs. Popular offerings in Sydney include steak houses, Chinese food, Nepalese, Indonesian, vegetarian, and Japanese cuisine. The top international dishes in Sydney include grilled tuna jaw, Campechana, and Bahn hoi.
The local Australian cuisine in Sydney is known for being fresh, and in most cases, healthy. Some of the top dishes in Sydney include biodynamic lamb, razor clams, Tomahawk steak, and fish and chips. The top restaurants to find these dishes include Mongers, Moorlands, Berowra Waters Inn, and Zest Work 'n' Grill.
---
8) New York City, New York
There are a lot of interesting facts about New York City, and one of them happens to be their food. NYC is known for some of the best pizza that the world has to offer. The city is also home to over 80 restaurants that have been awarded Michelin Stars. With such a diverse population, New York City offers delicious cuisines from all over the world. Some of the top global cuisines that can be found in New York City include Irish, Chinese, Italian, Japanese, Thai, and French cuisines. Some of the most popular restaurants to visit for global cuisine include the Spotted Pig, New York Noodle Town, Osteria Morini, and DBGB.
Not to be outdone by the global cuisine that can be found, New York City has its own staples. Some of the most popular foods that are purchased in New York City include New York style bagels, cheesecake, hot dogs, deli sandwiches, clam chowder, and pizza. Though there are many places across the globe that claim to serve New York style foods, nothing really compares to the original. Popular places to find these New York City staples include Juniors, Randazzo's Clam Bar, Katz's Deli, and John's Pizzeria.
---
7) Lyon, France
Anyone who has visited Lyon, France can tell you that it is a city rich in history that has a vibrant cultural scene. In Lyon, the traditional restaurants are known as bouchons, and started popping up around the end of the 19th century. Many of the bouchons that can be found in Lyon were started by cooks that were laid off by wealthy families in the 1930's. One of the cooks, Eugenie Brazier, was one of the first of three to be awarded the coveted Michelin Star. Today, around 20 of the restaurants in Lyon have been awarded Michelin Stars. Lyon is known to be the gastronomic capital of France. It is in Lyon that the gastronomic movement truly started and became popular. For this reason alone, food enthusiasts from all over the world have appreciated Lyon for its bold culinary techniques and inventions.
The cuisine that can be found in Lyon is a mixture of traditional Lyonnais cuisines and Nouvelle cuisine. Traditional Lyonnais offerings include dishes such as Andouille, tripe, chicken liver salad, Cerverias, and Cervelle de Canut. The Nouvelle cuisine that can be found in Lyon includes more delicately prepared dishes such as scallop tangerine Gastrique. Some of the most popular restaurants that provide Nouvelle cuisine include Le Sud, Le Nord, L'Est, and L'Ouest.
---
6) San Francisco, California
Those who have visited or live in San Francisco can tell you how diverse the city's cuisine actually is. In San Francisco, the price range between the different restaurants is surprising because you can go from spending a few dollars at one place, and turn around and spend hundreds at another. Also surprising, is that there is essentially a restaurant scene for everyone. In one neighborhood of San Francisco you can find a plethora of health- conscious vegan foods, while in another you will be able to find the largest Chinatown in North America. What's more, most of the international food that you can find in San Francisco is extremely close to the food that can be found in each restaurant's respective land of origin.
Because the city is so diverse in the type of cuisine that you can find, there is no real specific cuisine style in San Francisco. This attribute is what makes the city such an appealing destination for many food enthusiasts. San Francisco is able to boast an impressive 23 restaurants that have received the Michelin Star. Some of the top restaurants to visit in San Francisco include Nopa, Frances, Lers Ros Thai, Bar Tartine, and SPQR. Each of these restaurants will provide you with the diverse cuisine for which San Francisco has become known and appreciated.
---
5) Hong Kong, China
With over 70 restaurants that have been awarded the Michelin Star, Hong Kong is a great place to be if you are hungry. In Hong Kong, you will have the option of visiting the local street vendor or getting gussied up for a memorable meal at a five-star restaurant. The food that you can get in Hong Kong is nothing like the food that you can get from your favorite local Chinese food restaurant. It is much, much better. The local food that you will find in Hong Kong, regardless if it comes from a street vendor or five-star restaurant is Cantonese cuisine in its purest form. There has also been an explosion of gastronomic-style eateries that will appease even the pickiest palate.
The favorite dishes that you should try while in Hong Kong include Hong Kong-style French toast, Hong Kong Style cheeseburgers, chicken feet, Five-layer roast pork, and Cantonese preserved sausage. You should not leave Hong Kong unless you have tried all of these popular dishes. Some of the restaurants that you can try these dishes at include Lan Fong Yuen, the Denmark Cake Shop, and Lei Garden's Sui Yuk.
---
4) London, England
When some people think of London cuisine they immediately think of a fresh order of fish and chips. While it is true that London restaurants serve some of the best fish and chips, the culinary scene is so much more vibrant and diverse than that. London is home to over 60 restaurants that have earned prestigious Michelin Stars. Throughout London you can find cuisine from all over the world. Popular world cuisines that are offered in London include African, Greek, French, Italian, and Middle Eastern variations. As more cultures continue to migrate to London, the cuisine offered there will continue to change and develop. Because London locals are so open to experiencing different cuisines, there is more opportunity for chefs to experiment and to expand their culinary expertise.
If you want to try out the global cuisine that London has to offer, the best spots include Manuka Kitchen, Abingdon, Thirty Six, and The Luggage Room. If you are looking to try out local British restaurants that offer traditional British cuisine, you will have no problem finding a place in London. Some of the top traditional British cuisine restaurants include Rules, Simpsons-in-the-Strand, Quo Vadis, and the Goring Dining Room. Some of the traditional British dishes that you will be able to find in these restaurants include fish and chips, Toad-in-the-Hole, cottage pie, bangers and mash, Yorkshire pudding, black pudding, and Bubble and Squeak. If you are looking for a more casual atmosphere, you may want to visit a local London pub. Some of the top London pubs include Zeitgeist, Earl Ferrers, St. Chad's Place, and the Faltering Fullback.
---
3) Bangkok, Thailand
For most food enthusiasts, Thai food is some of the most sought after. There is no better place to taste delicious Thai food than in Bangkok. Some of the most popular Bangkok dishes include Tom Yum Goong, Som Tum, Tom Kha Kai, Gaeng Daeng, and Pad Thai. There are many different dining options that you can choose from while in Bangkok. Street vendors, local hole-in-the wall eateries, and five-star restaurants are all dining options that you have to choose from. In addition to the best Thai food that you could imagine, Bangkok restaurants are also known for serving excellent British, German, Japanese, Korean, Chinese, and Indian cuisine.
Though many would assume that the five-star restaurants deliver the most sought after dishes, it is the street vendors that shine in Bangkok. Some of the most popular street vendors in Bangkok include Chaiyo Khao Man Gai, Udon Noodles, and Samong Moo. For those wishing to give their feet a rest, you can try one of the many popular restaurants in Bangkok. Popular restaurants include Gianni Ristorante, Baan Khanitha, and Harmonique.
---
2) Paris, France
Every day people from all over the world dream about experiencing authentic French cuisine. If you know anything about French cuisine, you will know that the best and most authentic place to experience it is in Paris. To say that Paris is a gourmet city unlike any other would be a major understatement. Throughout France, every region has its own unique style of cuisine. In Paris, however, all of those styles come together, making it the best that France can possibly offer. The ingredients that are used the most in French cuisine include beef, chicken, goose, mushrooms, cream, wine, oysters, and an assortment of fresh herbs and vegetables. The best types of French cuisine range from Haute to Nouvelle offerings.
From the local bakeries to the five-star restaurants, there is no better city to be in if you are looking for a good place to eat. With around 85 restaurants that have been awarded Michelin Stars, the French people's love for excellent food is apparent. Some of the top bakeries in Paris include Le Grenier a Pain, Pain d'Epis, and Le Moulin de la Vierge. If you are looking for a café to visit while in Paris, some of the best include Café Verlet, Merce and the Muse, and La Cafeotheque. For a five-star dining experience in Paris, there is Le Meurice, L'Ambroisie, and Arpege. Visiting any of these places will allow you to see exactly why Paris is one of the most visited places when you want to experience great food in a classic atmosphere.
---
1) Tokyo, Japan
Japanese cuisine has been popular in many cities across the globe. There are many cities that try to learn from Japanese cuisine, and many cities that claim to truly understand it. However, one of the only places where you can truly experience Japanese cuisine is in Tokyo. The populous city is home to over 300 restaurants that have earned Michelin Stars. That astounding number, though surprising to some, is completely understandable to those who have experienced true Tokyo cuisine. Though there are many different cuisine trends popping up all over Tokyo, the true star of Japanese cuisine lies in the traditional dishes that you can find within the city limits. Some of the most sought after traditional Tokyo dishes include Soba, Sukiyaki, Oden, Unagi, and Nabe. Popular restaurants that serve these dishes include Namiki Yabusoba, Echikatsu, Konakara, Kandagawa-honten, and Nabeya. Visiting any of these places will allow you to experience traditional Tokyo cuisine at its best.
If you wish to explore the newer cuisine that Tokyo has to offer, there are many different places that you can do so. Some of the popular, but less-traditional, dishes in Tokyo include Gyoza with black-vinegar sauce, orchid-root-thickened ice cream, sipping vinegar, green tea éclairs, and Okinawan spam. The places where you can find these unique foods include Teppei, Mikimoto Lounge, Ice Cream City, and Takashimaya Times Square. Each of these places indicates where Japanese cuisine may be heading in the not-to-distant future. Though Tokyo remains a city that respects and appreciates tradition in its cuisine, it is also a city that is not afraid to experiment with different techniques and recipes. It is the city's lack of fear, mixed with its love for tradition, that has caused it to become one of the most inventive cities when it comes to gourmet cuisine.
---
Conclusion
With so many foodies and food enthusiasts constantly on the look out to find the next best cuisine, it is easy to understand why all of these places can be considered a gourmet city. Each of these cities has brought different techniques and dishes to the culinary world. Though some of the techniques and dishes in one city can contradict the techniques and dishes in another, they are all important to the development of the culinary world. Each of these gourmet cities will offer something different to food enthusiasts across the world. These cities either appreciate and uphold culinary traditions, or they throw tradition to the wind and take their own course. One of the great things about the culinary world is that being traditional or non-traditional does not really matter. At the end of the day what matters most is if a chef or cook has created a meal that is worth remembering. If that can be done, there is truly no right or wrong way. Each of these cities has come to recognize this to be true on some level, which is why they have become memorable in the eyes—and mouths—of the world.
Locations
Top Lists:
15 Amazing Man-Made Islands
Top 15 Amazing Gothic Architecture Around the World
Top 15 Interesting Facts about Niagara Falls
Top 15 Fascinating Facts about the Great Wall of China
Top 15 Most Beautiful Mountain Ranges Around the World and How to Enjoy Them
Top 15 Famous Castles, Palaces, and Towers
Top 15 Best Zoos in the World
Top 10 Coldest Places in the World
Top 15 Most Beautiful Cities in the World
15 Fascinating Facts about the Eiffel Tower
Top 10 Best Museums in the World
Top 15 Most Famous Theatres in the World
Top 15 Largest Cathedrals in the World
Top 15 Famous Palaces in the World
Top 15 Largest Libraries in the World
15 Unique & Beautiful Tourist Attractions That Evolved By Mistake
Top 15 Best Chocolate Destinations in the World
Top 15 Cities with the Best Gourmet Food
15 Amazing Statues Unknown to the World
Top 10 Natural Wonders of the World
Top 10 Nightlife Cities in the World